The Inter-compatibility of Sangoma Hardware (May Webinar Recap)
During this month's Sangoma Reseller Webinar, Mark Carson covered the inter-compatibility of Sangoma Hardware and it's ease of use. If you missed the webinar, you won't want to miss out on this quick recap!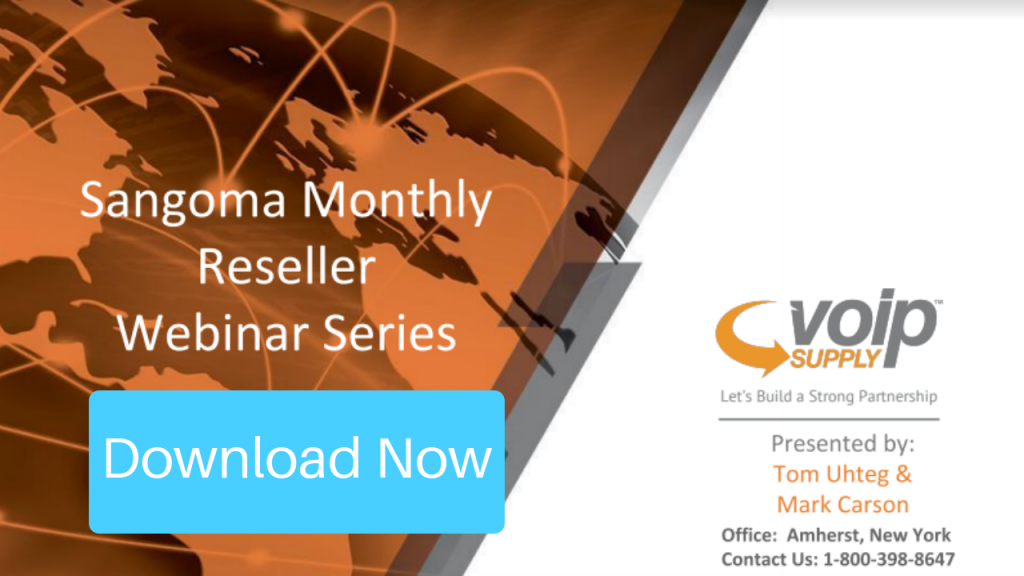 Sangoma Reseller Webinar Q&A
Question 1: You have been a distributor of Sangoma for a number of years now, when people are looking at your competition, how do you win with Sangoma? What are the key selling points?
Answer: It's all managed under one roof, when you sell a complete Sangoma solution there's no finger pointing because all of the products are owned by us. Giving you and your customers POM (Piece of Mind). Depending on the competition most people are price sensitive, price sensitivity is huge. A Sangoma solution will be equally priced or priced lower than other solutions. It tends to be a very good cost of ownership situation.
Question 2: What is your favorite Phone App that you see most customers get really excited about?
Answer: Call Parking because you can put 2 or 3 park buttons on everyone's phone and when you have a call you have to get to someone who isn't at their desk you can park the call for them to and it's easy for them to pick it up. Hot desking is also popular because people are open space oriented someone working all over these are the two I see that are the most popular.
Question 3: Will VoIP Supply be hosting any on-site training certification courses?
Answer: That's a great question, If you are interested in attending a training session please send our marketing supervisor an email ([email protected]) so we can gauge interest and find the ideal location!
Question 4: How can I become a Sangoma Reseller?
Answer: If you are interested in becoming a Sangoma Reseller through VoIP Supply, simply visit our website to fill out the form or give our VoIP Experts a call at 1-800-398-8647. One of our VoIP Experts along with Mark Carson will help with the onboarding process so you can start selling Sangoma!