First Look: Digium TE133 and TE134 Single Span Telephony Cards
The TE133 and TE134 are the most recent single span telephony card solution from Digium, and VoIP Supply gives you a first look at the Asterisk company's cards.
What is it?
The Digium 1TE133F PCI-e and Digium 1TE134F PCI are new telephony cards for seamless PTSN connectivity to VoIP. These single span cards use state of the art technology to increase overall consistent phone quality and system performance, including features such as toll-bypass adjuncts for legacy TDX PBXs, SIP trunk interface for legacy TDM systems and small call center ACDs with T1/E1 trunks.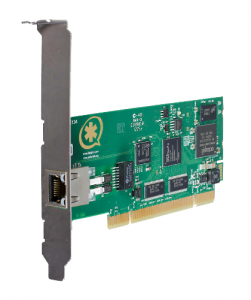 From these single T1 digital telephony cards, you can expect:
Up to 24 (T1/J1) or 30 (E1) simultaneous calls

Selectable T1, E1 or J1 Mode / Half-Length, Half-Height, Digital Card

PCI-Express (TE133)

PCI (TE134)

One (1) RJ48 Interface Port

Protocol support includes: ISDN PRI, Robbed-Bit, CAS

Built-in 128ms Octasic DSP hardware echo cancellation

5 year warranty

Risk-free ESP guarantee
Digium TE133 and TE134 cards are designed to support T1/E1/PRI environments and industry standard telephony protocols, mainly Primary Rate ISDN protocol families for voice in North America and Euro standards. Octasic DSP hardware echo cancellation is built directly into the cards which removes the task of echo cancellation from the system's CPU card, improving efficiency in your VoIP system.
As these cards are created by the makers of Asterisk, you can feel confident about 100% interoperability, straight from the source. Digium wants you to feel comfortable with your purchase, so even though we all know you'll love it, Digium offers a no-risk ESP guarantee that if qualifying Digium products don't perform 100% as designed, Digium will refund the product. That's confidence.
Who is it for?
The TE133 and TE134 are designed for Asterisk and it's open source drivers, so basically, anyone with an existing legacy system looking to upgrade to VoIP. Digium cards have been tested with major server hardware platforms like Dell, HP and IBM, as well as hardware platforms with chipsets like AMD, Intel, VIA and Nvidia. Being designed by Asterisk, Digium cards are compatible with all version of Asterisk using the DAHDI driver framework. Asterisk and DAHDI are available for free from the Asterisk.org website.
Pricing
Digium 1TE133F MSRP $730.00
Digium 1TE134F MSRP $730.00