VoIP Q & A: Freetalk Connect Me, Skype, Jabra Headsets
Questions about VoIP devices and services are regularly submitted to VoIPSupply.com through a technical support ticket or via the "Ask The Expert" tab on our product pages.
We respond to these requests directly but more often than not, this Q & A would be helpful for lots of other folks.
Below are your VoIP questions answered – Real questions from real people  just like you.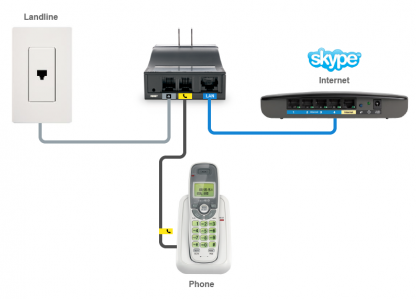 Q: Is this [Freetalk Connect Me] only for Skype or can it be used with any VoIP [sic] with compatible voice codec?

A:  The Freetalk Connect Me is a Skype-specific analog telephone adapter (ATA) that allows you to make and receive Skype calls from your regular, old home phone.
The Connect Me allows you to switch back and forth between making Skype calls and calls using your home phone number. The diagram above shows how the Connect Me ATA is a bridge between your landline and your broadband internet connection.
The Connect Me isn't designed to provide you with VoIP service.
If you're already using VoIP to make calls, the Freetalk Connect Me certainly shouldn't impede that if you're looking for a standalone Skype phone option to make and receive Skype calls while you're away from your computer. For more info, here's a good Freetalk Connect Me video tutorial.
Q:  Is the head band size ajustable [Jabra GN9350e OC]?

A:  You should be asking WAS the headband adjustable and the answer would be, yes, it was, and in fact it came with (3) wearing options – Over-the-head, behind-the-neck, and on-the-ear.
The Jabra GN9350e OC has been discontinued and has been replaced by the Jabra PRO 9450 which also features those same (3) great wearing styles and offers (4) ways to answer a call via the:
Headset,
Touch Pad,
PC Call Manager,
or Keyboard Shortcut
For a full run-down of the PRO 9450, check out this video:
Stay Tuned
Check back next time  for more VoIP Q & A.
Thanks for your questions!