What does IP PBX stand for?

You may have heard about IP PBX, but what is it exactly? What does it do? Let me tell you all. The acronym "IP PBX" stands for Internet Protocol Private Branch Exchange.
A Private Branch Exchange (PBX) is a telecommunications system that handles the call control functionality of your telephones and fax machines while simultaneously managing your connection to the PSTN. (Publicly Switched Telephone Network).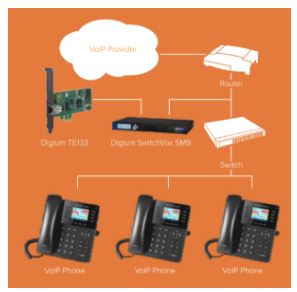 This means that it is a telephone system that handles your call control functionality and manages your connection to your telephone service provider through IP technology.
A VoIP Phone system interconnects your telephones, VoIP Phone system and your VoIP service utilizing your existing LAN and WAN infrastructure. See a common setup on the right.
Want to learn more? Download our Free Guide to VoIP systems here! Or, simply call our VoIP experts at 1-800-398-8647 to ask!