Working from home phones that are affordable and reliable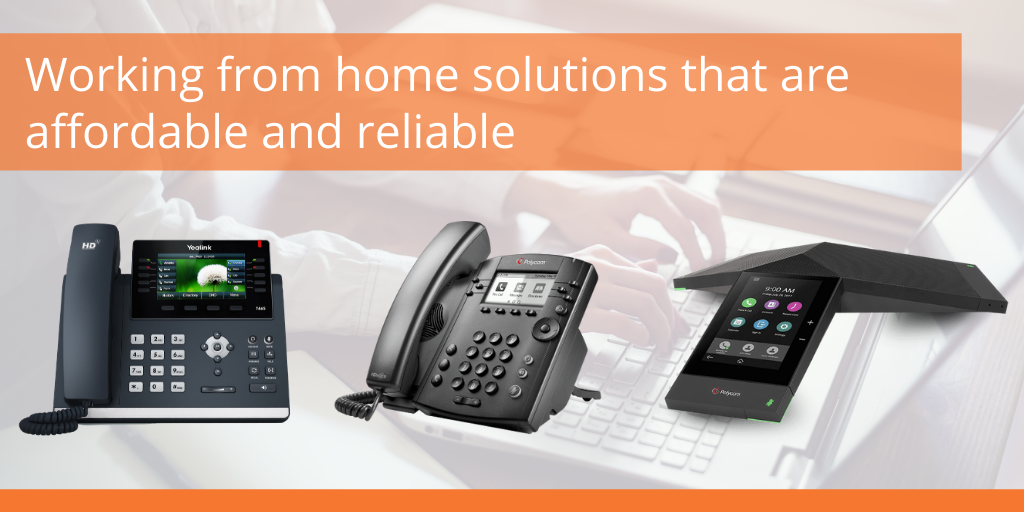 If your business is transitioning to working from home and you need to equip your employees with desk phones that they can use at home VoIP supply's Refresh line of refurbished phones is a great option. Refresh offers used phones that are in great shape both in appearance and in functionality. And best of all, they cost a fraction of the cost of new phones.
What's better? We stand behind our Refresh catalog and for that reason,, all Refresh phones come with a full 1-year warranty. If anything is wrong with the phone you can either get it serviced or get a replacement.
To learn how we select our Refresh phones and get them ready to place in our inventory, check out our Refresh Process here.
The Yealink T46S is a great solution for the professional employee that needs a high definition phone with Opus support and an enhanced speaker. It offers a beautiful color, touch display with options for both Bluetooth and WiFi via USB. The T46S can also be a perfect fit for the hearing impaired as it is hearing aid compatible (HAC).
Yealink T46S Top Features:
4.3-inch 480 x 272-pixel color touch screen
USB2.0
Opus
Up to 16 SIP accounts
Paperless label design
Headset and EHS support
USB recording
Support for expansion modules
Stand with two adjustable angles
Wall-mountable
If you are wanting something with a lower price tag then the Polycom VVX 311 could be an option.
The VVX 311 is both affordable and high-performing. It is an entry-level business phone that delivers a high-definition voice for crystal clear calls.
VVX 311 Top Features:
Backlit grayscale graphical LCD (208 x 104)
6 line or speed dial keys
HD Voice up to 7KHz on all audio paths (Speaker, Handset, Headset)
2 x Ethernet 10/100 or GigE (VVX 310)
Asian character support
Hard Keys: 12-key dial pad, home, speaker, mute, headset, volume, messages, hold, transfer
4-way navigation cluster with center "select" key
Supports VVX Expansion Module and VVX Color Expansion Module (Expandability up to 3 modules)
Skype for Business and Office 365 Cloud PBX interoperability (order "Skype for Business Edition" codes ending in "-019")
If you are looking to stay away from a traditional desk phone when working from home and perhaps just need a device that can provide clear calls and has noise canceling technology, then the Poly Trio 8800 Conference Phone could be just the right solution for you.
This is a larger investment as it has a larger price tag, but could be a good fit for executives and high-level employees that are constantly on conference calls. It features built-in WiFi and Bluetooth so that setting it up and starting your first call can be done in minutes. It also provides Acoustic Echo cancellation and Polycon's patented Noise Block technology which is perfect for working from home scenarios if you foresee a lot of background noise. After being used at home, it can serve well in the office as well and/or in a small-to-medium conference room.
Poly Trio 8800 Top Features:
Built-in Wi-Fi
Microsoft® Lync™ Server 2010 Compatible
FTP/TFTP/HTTP/HTTPS Server-Based Central Provisioning
Single Line Operation
Acoustic Clarity Technology
20 Foot Microphone Range
Acoustic Echo Cancellation
Patented Polycom® NoiseBlock™
Bluetooth 4.0
5″ Color LCD Display
Up To 5-Way Conferencing
Intuitive Navigation
One-Touch Speed Dial
NFC (Near Field Communication)
Call Waiting
Bridges IP and USB Phone Calls
Virtual Keyboard
Refresh has many other options. If you have questions about Refresh, are looking for a specific model or have a set budget you need to stay within, we may be able to help! Give us a call at 1-800-398-8647.