FXS VoIP Gateways
Value packed FXS Gateways from VoIP Supply will reenergize your phone system's ROI.
VoIP Supply knows that deploying a new VoIP phone system doesn't always mean that you need new VoIP phones to go along with it. Connecting to VoIP service via an FXS Gateway is a simple and cost effective way to wrestle extended returns from your existing analog phones or fax machine.
FXS Gateways employ RJ11 ports that will leverage your analog office phones and fax machines to communicate with your new VoIP PBX system with VoIP protocols and will encode/decode the voice signal with voice codecs.
All of our FXS Gateway gateways carry a standard manufacturer's warranty, are supported by our in-house team of VoIP gateway experts and are compliant with most VoIP protocols and codecs.
Buying Advice
Shop by Manufacturer
Customer Benefits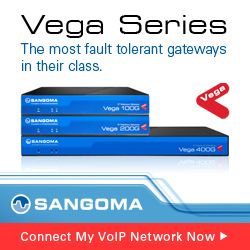 The Sangoma Vega50 4 FXS + 2 FXO Gateway has 4 FXS ports for connecting analog devices and 2 FXO ports for PSTN connection or lifeline failover.

The Grandstream GXW4024 is a 24 FXS port VoIP Gateway with both RJ11 and 50-pin Telco connectors that offers full interoperability with leading IP-PBX and softswitch systems.

The <b>Grandstream GXW4004</b> is a 4 FXS port gateway that allows analog phones or fax machines and traditional analog PBX systems to connect to a VoIP system or provider. It features 2 10/100 network ports with an integrated router for connecting to the network and an RJ11 line for PSTN failover.
The Audiocodes MediaPack 114 Gateway with 4 FXS Ports allows up to 4 analog phones or fax machines to connect to the IP Network.