5 Reasons Why Businesses Choose VoIP Phones with WiFi
As technology advances, your customers are expecting and demanding more from you than ever. Therefore, mobility has become the key to success for many businesses, big or small. That's where wireless VoIP comes into play! If you are debating whether to go wire-free or not, be sure to check out this blog post as we cover the reasons why businesses choose VoIP phones with WiFi.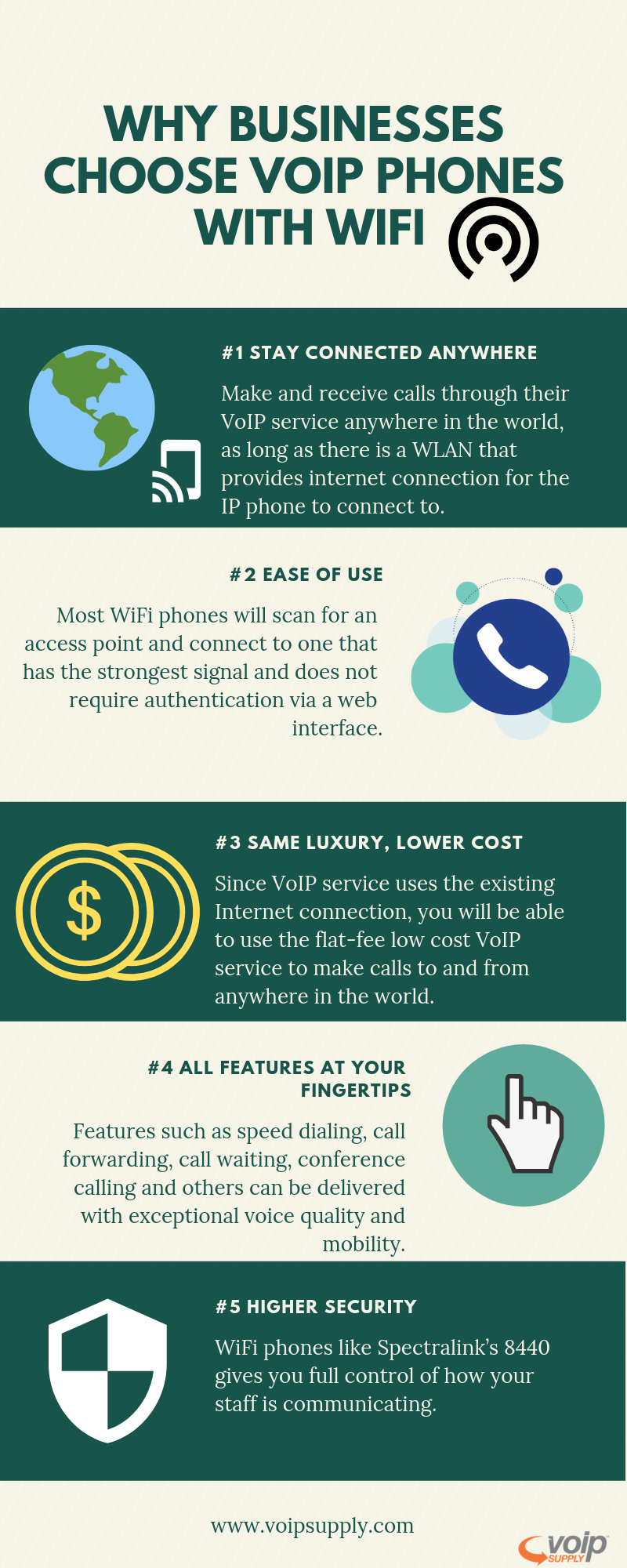 #1 Stay Connected Anywhere
WiFi phones, such as the Grandstream's GXP1750W or Spectralink's 8440 , give the users the ability to make and receive calls through their VoIP service anywhere in the world, as long as there is a WLAN (wireless local access network) that provides internet connection for the IP phone to connect to. Your salespeople will be set free from their seat to meet clients and your remote workers can collaborate as effectively as being in the same meeting room or office physically.
#2 Ease of Use
Anyone who knows how to use a cell phone can easily manage a WiFi phone very quickly! Most WiFi phones will scan for an access point and connect to one that has the strongest signal and does not require authentication via a web interface. You will be able to get your WiFi phone up and running at the drop of a hat!
#3 Same Luxury, Lower Cost
Need to be mobile but don't want to be paying huge cell phone bills? VoIP phones with WiFi is your solution. Since VoIP service uses the same Internet connection you already have, you will be able to use the flat-fee low-cost VoIP service to make calls to and from anywhere in the world.  
#4 All Features at Your Fingertips
Many of today's WiFi phones allow users to enjoy the same calling features they have on their analog or desktop VoIP phones.  Features such as speed dialing, call forwarding, call waiting, conference calling and others can be delivered with exceptional voice quality and mobility. You don't have to sacrifice the features you love for being mobile!
#5 Higher Security
Instead of having your employees use their own cell phones for work with lots of security holes, WiFi phones like Spectralink's 8440 gives you full control of how your staff is communicating. This is especially important for hospitals and clinics where the communication can involve sensitive information such as patient's medical history data, etc. Learn more about WiFi phones for healthcare communication here.
Another popular choice of wireless VoIP is DECT phones, which receives a signal through a base station that connects to the phone service to send/receive phone calls. Learn more about the difference between WiFi and DECT here.
Wireless VoIP is growing in popularity every single day as more businesses are searching to have the convenience of mobility with the low cost of VoIP. Don't be left behind! If you need help deciding what wireless VoIP phones are best for you, download our free Wireless VoIP guide or simply raise your phone to call our VoIP consultants at 1-800-398-8647 now!