6 Simple Ways to Fix your VoIP Audio Quality Issues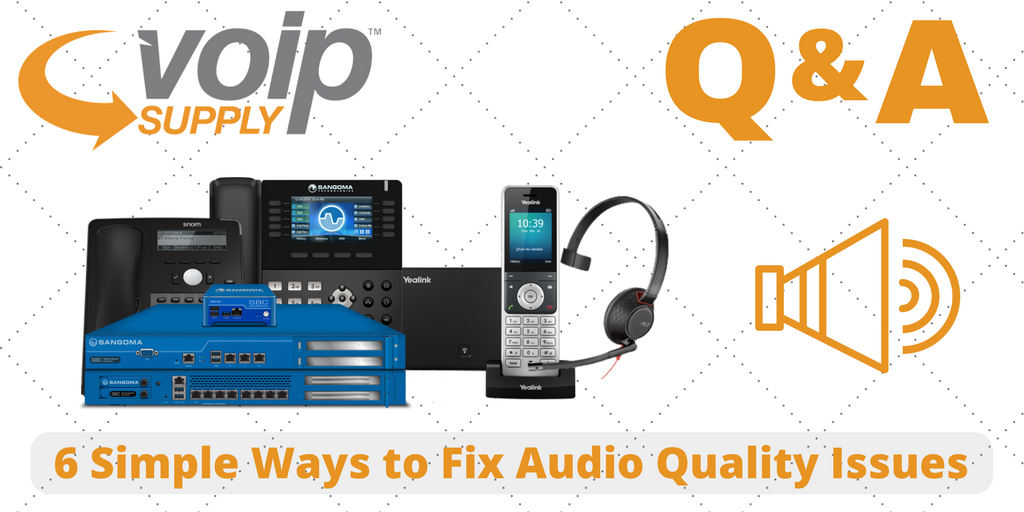 VoIP Supply offers great pre- and post-sales support plus provisioning, consultations, configuration, and installation help. We get a lot of VoIP hardware and software questions and would like to share with all of you. In the previous Mom's calling Q&A series, we have discussed: Are Revolabs Products Supported Through End Point Manager (EPM)? Today, we are going to address your audio quality issues.
Nothing more annoying than poor VoIP audio quality. Our tech support team came up with the top 5 simple ways to fix your audio quality issues. Let's check them out:
6 Simple Ways to Fix Your VoIP Audio Quality Issues
#1 Firewall Ports – Make sure the firewall is not blocking ports, as mentioned above.
#2 Codec Settings – Make sure you are using the correct Codec settings. A lot of providers prefer you to use G.711Alaw. using the wrong codec on any port of the call can stop audio from working in a direction if the VoIP provider is not Transcoding between the codecs.
#3 Check LAN – Make sure you have no internal LAN problems like Loops or programs that send out high volumes of multi-cast packets.
#4 Check Bandwidth – Make sure that on both your LAN and WAN/ISP you have enough bandwidth to suit the codec's you are using for SIP/VoIP. As a rule, G.711Alaw uses 87.2kbps(8.7KBps). Also, make sure you have no users on the network using Bit torrent clients for seeding and downloading
#5 Check Broadband –  Check the Bandwidth you have available from your ISP to make sure you can make calls with a guaranteed bandwidth amount. As a rule, you want a minimum of 2Mb down, and 2Mb up.
#6 Check For Packet Loss – run a packet loss trace using either MTR (Linux) or WinMTR (Windows) to both your ISPs DNS Servers AND the VoIP providers servers you are connecting to, if you see any lost packets, then you know that your calls are going to have words and bits missing, and you will be either asking to repeat stuff or be asked to  repeat stuff.
Don't forget to register for our QoS webinar to learn more about Quality of Service!

STAY TUNED
Come back for more VoIP questions and answers next time! If you have VoIP questions to ask us, please submit a technical support ticket or contact our VoIP experts today at (866) 582-8591!