7 Skype Tips and Tricks You Didn't Know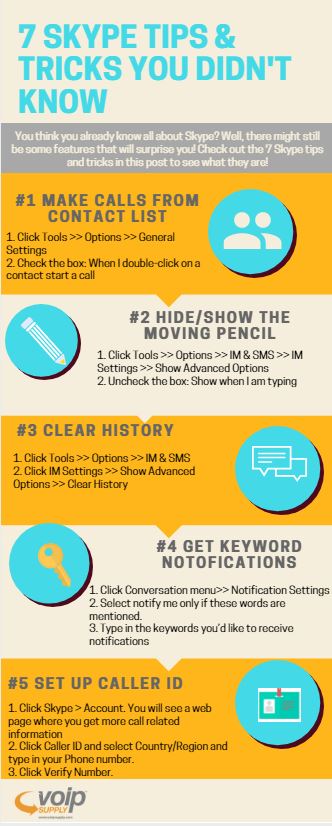 Skype is nothing new to most of us. We all love how simple and straightforward Skype is. It probably only takes you less than 30 minutes from downloading to dialing your first call through Skype.
You think you already know all about Skype? Well, there might still be some features that will surprise you! Check out the 7 Skype tips and tricks in this post to see what they are!
#1 How to Make Calls from Skype Contact List
Do you know you can start a Skype call by double-clicking on a contact? Here's how:
Click

Tools >> Options >> General Settings
Check the box: When I double-click on a contact start a call
Pretty easy, huh?
#2 How to Hide or Show the Skype Moving Pencil
You must have noticed that when you are chatting with someone on Skype message, there's a pencil image moving showing you that someone is editing his/her message. Not a big fan of this feature? No problem. Here's how you can hide it and have more privacy:
Click

Tools >> Options >> IM & SMS >> IM Settings >> Show Advanced Options
Uncheck the box: Show when I am typing
#3 How to Clear Skype Chat History
Erase your chat history in Skype is easy. Just follow these two steps:
Click

Tools >> Options >> IM & SMS
Click IM Settings >> Show Advanced Options >> Clear History
Be aware though, once you clear your history, you can't restore the messages! So think twice before you hit the button! You can also adjust the time frame that you want to keep your history by selecting the drop-down menu.
#4 How to Get Keyword Notifications on Skype
Too many messages that you don't have time to read them all? Use Skype's Keyword Notifications to get notified only when certain words are mentioned in the IM window. Here's how:
Click

Conversation menu>> Notification Settings

Select the radio button:

Notify me only if these words are mentioned.

Type in the keywords you'd like to receive notifications
Now you can sit back and focus on your work!
#5 How to Set Up the Caller ID on Skype
Caller ID shows your phone number when you make a call. You might want to set up this so people recognize you when you make Skype calls to landlines or mobile numbers.
Click

Skype menu >> Account.

You will see a web page where you get more call related information

Click

Caller ID

and select

Country/Region

and type in your

Phone number

.

Click Verify Number

.
You are all set. Test it out!
#6 How to Edit Your Last Message on Skype
Oops, made a mistake in the message that you just sent? Press the Up Arrow Key on your keyboard, Skype will automatically copy the text you sent and put in your chat box where you can correct and re-send.
#7 How to Transfer Skype Account Contacts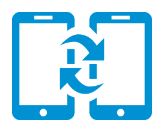 Need a new Skype account but feel it's tedious to re-add in all your contacts again? Let Skype do the work for you! You can easily backup all of your contacts from the old account and simply transfer them into the new one within minutes.
Sign in your old account. Click

Contacts

and go to

Advanced

and select

Backup Contacts to File

.  

Sign in your new account and click Contacts>> Advanced>> Restore Contacts from File
There you have it! Are you using any of the tricks I mentioned? What Skype features do you like to see? A hosted VoIP Service has a lot of useful and more advanced features, be sure to check it out too!