Algo IP Endpoints & Microsoft Teams Integration is Official!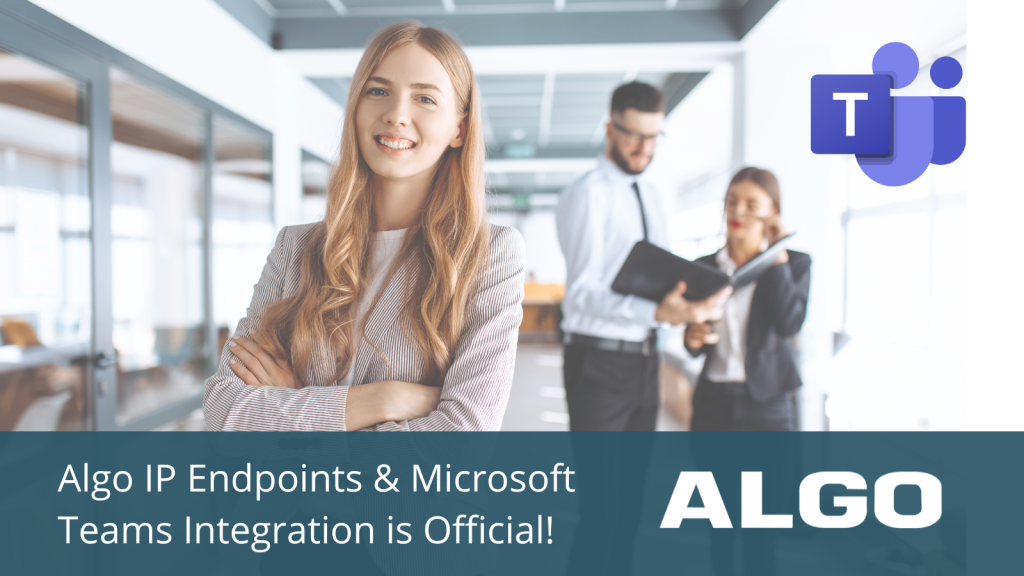 Algo Solutions has received official certification for seamless integration with Microsoft Teams via the Microsoft Teams SIP Gateway! Algo's third-party SIP-compliant devices can establish a direct connection with Microsoft Teams either via the SIP Gateway or by leveraging a compatible Session Border Controller (SBC). Algo IP Endpoints are officially recognized as part of the general availability offerings by Microsoft.
Implementing Algo's collection of Microsoft Teams-certified IP Speakers, Paging Adapters, Visual Alerters, Intercoms, and Displays for your voice paging, alerting, and door entry needs is easy. Algo's compatibility is optimized and efficient thanks to its native interoperability with Microsoft Teams via the Teams SIP Gateway.
Please visit the Microsoft Teams Configuration Guide here for a simple step-by-step guide to register Algo IP Endpoints to the Teams SIP Gateway.
Often recognized primarily for its top-notch collaboration features, including video conferencing and chat, Microsoft Teams also provides a complete cloud-based telephony solution suitable for businesses of all scales. For an entire list of certified Algo products compatible with Microsoft Teams, click here.
Common applications within Microsoft Teams include:
Enabling Legacy Voice Paging Systems: For example, the Algo 8301 Paging Adapter & Scheduler will allow you to seamlessly bridge analog devices and Teams as these adapters are fully compatible with Teams.
Deploying IP-based Voice Paging Systems: Algo's IP Speakers provide a seamless, feature-rich voice paging solution that seamlessly integrates with Teams' SIP Gateway. These speakers offer flexibility, wideband support, two-way communication, and ambient noise detection.
Emergency Notifications and Alerting: Algo's audible and visual alerting devices are perfect for efficient emergency alerts and telephone ring detection in Microsoft Teams setups. Algo's Visual and Audible alerters provide highly attention-grabbing notifications with ultra-bright multi-color LED visuals and high-intensity audible alerts.
Multicasting in Teams: Algo's IP Endpoints support RTP multicast and can be configured as either multicast senders or receivers. Leveraging multicast within a Teams environment enables organizations to efficiently expand their communication reach across various buildings, campuses, or enterprise settings while keeping costs and complexity in check.
Ring Detection and Loud Ringing in Microsoft Teams: Loud ringing devices provide the necessary volume to ensure phone rings are heard, even in noisy environments. These devices are crucial for critical situations or when workers need to be notified. Also, Algo IP Speakers and Visual Alerters can directly connect to the Microsoft Teams SIP Gateway and be linked to the specific user or phone requiring extra ring notifications.
Check the following requirements when registering an Algo device to the Microsoft Teams SIP Gateway: access to Algo's web interface, you have Firmware 5.3.4 or higher and that MS Teams support is enabled in the firmware, Microsoft SIP Gateway is enabled, MS Teams license, MS Teams production environment supports Algo, and the device certificate is installed.
Below are a few endpoints compatible with the Microsoft Teams SIP Gateway which are available at VoIP Supply:
IP Speakers:
• 8189 IP Surface Mount Speaker
• 8190S IP Speaker – Clock & Visual Alerter
IP Intercoms:
IP Visual Alerters:
• 8138 IP Color Visual Alerter
IP Paging Adapters:
• 8301 IP Paging Adapter & Scheduler
IP Display Speakers:
• 8420 IP Dual-Sided Display Speaker
For more information on this exciting integration, please feel free to contact one of our VoIP Experts at 1-800-398-8647 or visit us at www.voipsupply.com and send us a Chat.