Alternating Between the Handset, Headset, and Speakerphone on the Polycom VVX400
We have to spend a lot of time at work. For some of us, that means traveling or even staying at home to work. For the rest of us, we are typically stuck in an office or cubicle.
Because we spend so much time in our "area", I think one of the most important things to maintain at work is your comfort level. This can be pretty simple to achieve. Getting new office chair, a rolling mat underneath you, maybe a picture on the wall.
All of these things can make us more comfortable, but I also believe that having the freedom to use your deskphone however you want can not only bring a certain level of comfort, but it also can make things easier on you so that you can be more productive!
One phone in particular that comes to mind when thinking about endless options is the Polycom VVX400. This phone will allow you to use a headset, handset and it even has speakerphone as well.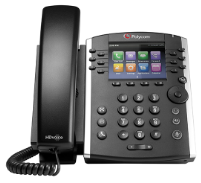 These options are great to have. I know most of us prefer to just wear a wireless headset all day. Some people can't stand headsets, and would rather go old fashioned and just stick to their handset. Or maybe you are in your office with the door closed all day, and simply enjoy pushing the speakerphone button to talk!
Either way, something always comes up, so it's good to know that with the Polycom VVX400, you can switch between any one of these at any time. Even when you're on a call!
Alternating Between the Handset, Headset, and Speakerphone on the Polycom VVX400
Switching between these options is also one of the easiest things you can do too! For example, if you are on a call, and using the handset and the call is running a lot longer than you thought. Maybe you want to get up and stretch your legs! Simply put your headset on and press the Headset button on the phone. Once pressed, this button will turn green, letting you know that you are now talking through the speakerphone and not your headset. Let the customer know they are on speak, and begin talking!
There are a lot of other combinations, and reasons why you would want to alternate between handset, headset, and speakerphone, but you get gist!  And if this is something that you didn't think was possible, and you have a deskphone with these capabilities, go ahead and give it a try! Let us know what you think!
Do you have a Polycom VVX400 on your desk? How often do you alternate between these three options? If you don't have a VVX400, what phone do you have? Can you alternate call style? We want to know!