Broadsoft and Polycom Sponsor XCv2 "Mashup" Developer Challenge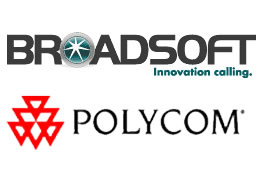 GAITHERSBURG, MD, June 30, 2009 – BroadSoft, Inc., the leading worldwide provider of VoIP applications, today announced the addition of Polycom as a co-sponsor of the XContestv2 (XCv2) Developer Challenge and to the prestigious panel of judges. Polycom's participation increases the available pool of prize money to $43,000. XCv2 is bringing together developers from around the world to create new, compelling business and consumer communications applications that combine BroadSoft's Xtended Web Services with other open application programming interfaces (APIs).
The Polycom Bonus Challenge is aimed to encourage XCv2 developers to extend their application user experiences into the domain of video-enabled desktop devices. Polycom's VVX 1500 business media phone, which combines a personal video conferencing system and full featured support for the BroadWorks® VoIP application platform, offers an open API and microbrowser for delivery of personalized Web content and integration with business applications making it easier for developers to expand their applications to the desktop phone and open up new revenue opportunities.
"The need for individuals to customize their communication preferences and be more productive is fueling a new wave of innovation in the telecommunications industry, opening up new revenue-generating opportunities for both third-party developers and services providers," said Leslie Ferry, vice president of marketing at BroadSoft®. "We assembled a panel of individuals from various sectors of the ecosystem who share BroadSoft's commitment to transforming communications and will bring their unique perspectives to the XCv2 judging process."
The confirmed judges to date are:
Jim Kruger, Vice President of Marketing, Voice Communications Solutions, Polycom
Jim Kruger brings extensive experience in the wireless service industry and global business-to-business voice communications market. Kruger oversees global product marketing efforts for Polycom's voice communications products and is helping the company maximize the benefits of open source development and redefine desktop communications. Prior to Polycom, he led product management and marketing efforts for Palm's wireless internet service and also served in several senior marketing roles with GTE wireless (currently Verizon Wireless).
Alan Quayle, President, Business and Service Development
With more than 19 years experience in telecommunications, Alan Quayle is a recognized expert in Web/Voice/Telco 2.0 and Service Delivery. He helps operators such as AT&T, Etislat, M1, O2/Telefonica, Swisscom, T-Mobile, Verizon and Vodafone create profitable new services and evolve their business models. His white paper, Opening Up the Soft Service Provider: The Telco API, highlights the importance of the application developer community to providers' Telco 2.0 strategies.
Scott Hoffpauir, Co-founder and CTO, BroadSoft
Scott Hoffpauir's technical vision and direction have helped BroadSoft create and sustain its global market leadership position in the VoIP applications space for more than a decade. Hoffpauir is the architect behind BroadSoft's Xtended program, bringing a strong entrepreneurial mindset, technical depth and clear vision to drive the next wave of innovation in the communications industry.
Launched in March, XCv2, BroadSoft's 2nd annual mashup contest, has generated an overwhelming response from the developer community with a 10x increase in registrations compared to last year's contest. Ferry continued, "We are excited to see such a significant increase in submissions from developers who are looking to promote their applications to the service provider community. The outstanding growth in submissions clearly demonstrates the powerful position of BroadSoft in the telecommunications industry and our ability to drive innovation."
In addition to cash prizes, developers will gain global exposure to more than 450 BroadSoft service provider customers. This opportunity allows developers' mashups to potentially be seen by more than 500 million end users through Xtended Marketplace, BroadSoft's online storefront of third-party applications.
Mashup usage amongst consumers and enterprises is growing rapidly. In 2008, Forrester Research predicted that enterprise spending on Web 2.0 technologies will grow strongly over the next five years, reaching $4.6 billion globally by 2013, with social networking, mashups and RSS capturing the greatest share. Forrester forecasts mashups will be a $682 million industry in the next five years.