Case Study: VoIP Supply Fulfilled ABC Medical's Urgent VoIP Needs During Difficult Times
VoIP Supply has been deemed an essential business during the COVID-19 pandemic and we continue to operate to support our customers' business processes and needs.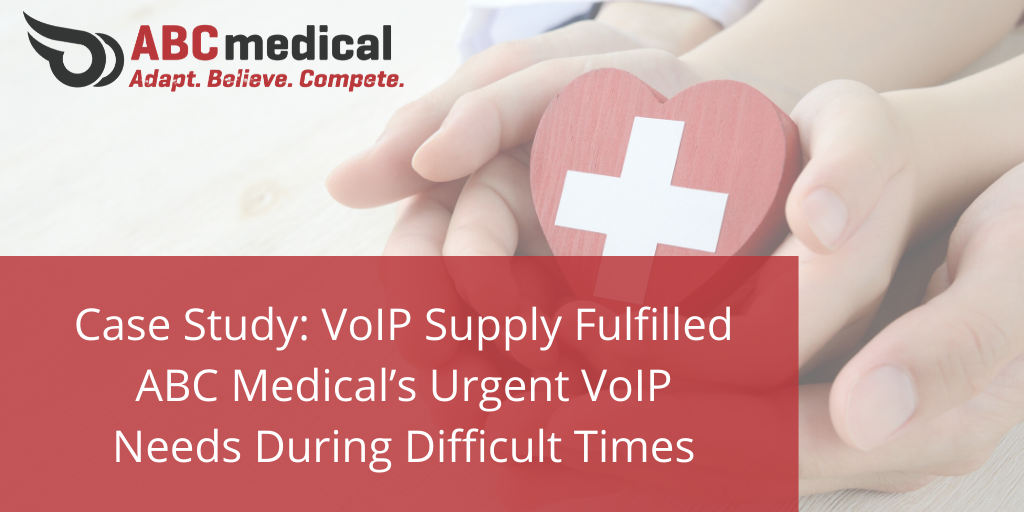 ABC Medical serves customers with a comprehensive line of medical supplies that are essential to their lives, including urological, ostomy, incontinence and wound care supplies. They are the first and only urology supply provider in the industry committed to adaptive sports.
VoIP Supply Fulfilled ABC Medical's Urgent VoIP Equipment Needs
Recently, ABC Medical countered urgent VoIP equipment needs and the VoIP Supply team was able to fulfill their needs in a timely manner with quality customer service. 
"We want you to know that we are very pleased with the quality of service your company provides. Recently, we had the pleasure of working with Tom Uhteg and sincerely appreciate his responsiveness to our urgent equipment needs along with his gracious customer service. Our shipments arrived timely. " – Annika Marmiroli, Vice President at ABC Home Medical Supply, Inc.
About VoIP Supply
VoIP Supply is North America's leading VoIP solutions provider. Since 2002, VoIP Supply has delivered valuable solutions for some 125,000 customers worldwide. With over 35 passionate employees, 2,500 products, 20,000 square feet of office space and an unlimited number of VoIP solutions to meet your needs.
During the COVID-19 pandemic, VoIP Supply is observing all government health and safety directives. Employees that can perform their duties remotely, are doing so, and the few staff that need to be at a VoIP Supply facility, are doing that but with many fewer staff present, we expect this 'social distancing' to materially reduce exposure/transmission. We look forward to continuing to work with you in the future. If you have any questions, please contact us at 1-800-398-8647.