Changing the Wallpaper on the Yealink T46G
LCD color displays are quickly becoming the norm within the VoIP world. If you have one you probably have noticed, and have been displaying, the stock background your phone uses right out of the box.
While there are more lengthy ways to customize this background on the back end within the WebGUI, there oftentimes can be a fast and easy way to change things up with preloaded selections.
For this example, we will feature the Yealink T46G and show you how you can access a set of backgrounds you can quickly switch to if you need a change of scenery.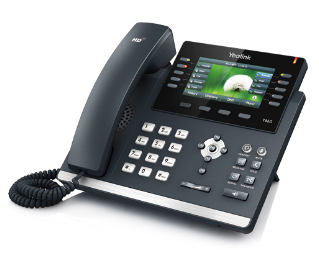 The first thing you will need to do is access the Main Menu. You can do this by hitting the Soft Key labeled Menu. Once you are in the main menu, you can then use the arrow pad located on the front face of the phone. You will use this to scroll through the menu options.
You will want to use the arrow pad to navigate to Basic Settings. This will be the icon on the screen that shows a wrench and a screwdriver.
Once you are on the Basic Setting screen, you will then use the Down Arrow key to navigate to Display. After clicking Display, you will be taken to your Display Options. From here you will then select the third option, which is Wallpaper.
Here you will be able to scroll through a few different choices of preloaded background. There are ten to choose from. They are mostly nature pictures, and range from waterfalls, flowers, raindrops and even outer space!
Once you have selected your background, the last step is to hit Save! After that you can return to your homescreen and find your new background!