Designing and Implementing an IP Paging System (2 of 4)
Note:  This is the 2nd installment of a four part series detailing the design and implementation of an IP paging (paging over VoIP) system. Click here for Part 1, Part 3, and Part 4.
To start off our second segment on IP Paging we will continue to talk about the two methods that IP Paging is delivered in:
In both of these paging environments, two types of paging can be performed. Below we will talk about the two types of paging and offer suggestions to products that "fit the bill" for each type of paging.
Desktop Paging
The first type of paging is desktop paging. Desktop paging is exactly what it sounds like, paging at the desktop. This usually involves an IP Phone that supports paging. During a desktop page, the IP PBX will usually be configured for a page group or groups depending on the scenario, and a user will simply dial into that page group to initiate the desktop page. The SIP extensions of the users inside that page group in the IP PBX are then desktop paged either via a unicast or multicast stream.
Desktop pages are delivered directly to the IP Phone, triggering it to immediately go off-hook and present the page of the speakerphone. So at bare minimum, from a hardware standpoint, you need an IP Phone that supports a speakerphone, which is about 95 percent of them on the market today. If you are unsure, please don't hesitate to ask one of our dedicated sales representatives.
Desktop Paging Configuration
Desktop paging can also be configured to "play a beep" first before the page comes through the speaker to alert the user that a page is being delivered. Also, pages can be configured to interrupt a user on a call or wait until the user has completed the call to page through. In cases where a page will interrupt a user during a phone conversation, the party that this user is speaking with will not be able to hear the page; however this may cause a distraction to all users on the conversation.
Administrators configuring the page groups must be aware of the users inside the page group as well as the importance of each page. For instance, a car dealership may opt to mute the page until the sales man or parts department is off the phone, however a hospital may opt to interrupt the call because they are delivering time sensitive information. Most all IP Phones and SIP Based IP PBX's support desktop paging. Please be aware that not all SIP DECT cordless handsets support paging (as they don't have the ability to go-off hook automatically and/or don't support a speakerphone) . If you are unsure, please confirm with your VoIP experts first.
Overhead Paging
The second type of IP Paging is overhead paging. Great advancements have been made in this department over the past few years to cater to new IP based overhead paging solutions. Companies such as Cyberdata and Valcom have products such as SIP based overhead ceiling speakers, SIP based paging amplifiers and loudspeakers with horns to accompany them. Most of these products are powered via POE so installation is simplified with 1 cable.
There are also options for Wi-Fi connectivity but keep in mind; you still need to power it which may require an electrician to hard wire these units.  Also, configuration is very easy as most of these endpoints are based upon SIP standards and are easily configured with a SIP extension (just like you would with an IP Phone) via the products web GUI configuration. Simply add these endpoints SIP extensions to a new or existing page group on your SIP PBX and dial the page group extension.
Audio is transmitted through the overhead speaker or amplifier horn combination. For applications that require a louder horn, such as a noisy warehouse or manufacturing facility, Cyberdata offers a Loudspeaker for noisy environments which adds more decibels to the volume level allowing pages to be heard properly.
Of course, mounting options may be of concern, so Cyberdata offers a few types of mounts for their overhead paging speakers, such as a wall mount, flush ceiling mount, and wall mount with clock (nice for hallways in a hospital or school).
Overhead Paging Illustrations
Below are 2 illustrations (thanks to Cyberdata) that depict how each type of overhead paging endpoint interfaces with an IP PBX.
Overhead

Loudspeakers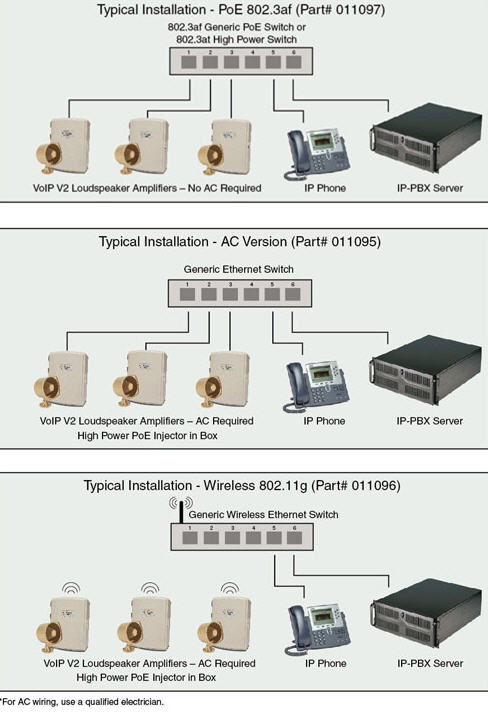 Next Segment: Part 3 of 4
Tune in next time for Part 3 of IP paging system requirements.
Further Reading