Dual Choice With New Polycom Soundstation Duo
Does your office already have VoIP but some areas still use analog?  Are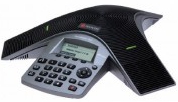 you considering making the swith to VoIP but, you're not sure when?
Your conference phone choice is easy then because VoIP Supply now offers the  Polycom SoundStation Duo IP Conference Phone.
Dual Mode IP Conference Phone
Whether your business is planning a migration to VoIP service or is already enjoying the benefits, the latest Polycom conference phone works in dual environments.  The Polycom SoundStation Duo is a dual mode analog and VoIP conference phone offering support for both telephony platforms.
Flexibility Delivers High ROI
Need investment protection?  The Polycom SoundStation Duo offers best-in-class ROI.  Use the SoundStation Duo with traditional analog phone service or, switch it over to VoIP when you're ready.
And when you do switch to VoIP, this SoundStation conference phone is compatible with leading SIP-based PBX and softswitch platforms.
"Customers needing more board room device choices can look to innovative industry leader Polycom ," said Garrett Smith, Chief Marketing Officer at VoIP Supply.   "The flexible SoundStation Duo works with the service you have now and what you plan to have; future proofing your investment."