VoIP Supply One of Western New York's Fastest Growing Companies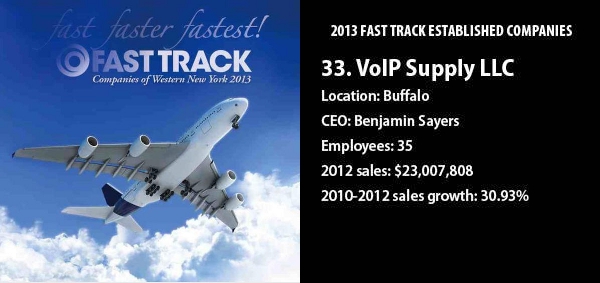 This past Wednesday, June 19th, Buffalo Business First held its annual reception for the Fast Track Companies of Western New York.
When the list was unveiled, VoIP Supply ranked #33 out of 65 area companies with 30.93% sales growth over the last three years.
WNY Weathers The Storm
Congratulations to all of the other great companies on the list that help drive the success of our region.
Business First honors privately held companies in two categories, Established Companies and Young Companies, and ranks them based on the largest percentage increase in sales from 2010 to 2012.
Peter Marlette, managing partner of Fast Track sponsor Damon Morey LLP, expressed that it's "refreshing to see that Western New York has weathered the storm" of the recent economic turmoil.
"Our region's strong business community, supportive environment and passionate people demonstrate why WNY is a great place to start a business," said Marlette.
Doing Well So That We Can Do Good
VoIP Supply's CEO, Ben Sayers, is thrilled that his company not only made the list but was able to do so as a Certified B Corporation.
As a sustainable and responsible company, VoIP Supply's mission is to "Do Well, Do Good, Suck Less:"
Focusing on these six words, we have climbed back on the list of fast growth companies in our region as well as focus on giving back to our local community and environment. It is our hope that our actions will inspire and challenge other businesses in the area to step up and deliver in kind, demonstrating clearly that a company can accelerate and grow even when the focus is not solely on revenue or profits.
I am extremely proud of the team at VoIP Supply and want to thank each and every one of them for their belief in what we do, why we do it and for delivering excellence every day.
Congratulations to Entrepreneurs' Organization (EO) WNY Companies
VoIP Supply is also a Entrepreneurs' Organization (EO) member in the WNY chapter.  Congratulations also go out to all the fellow EO WNY companies that made the 2013 Fast Track list:
Kegworks | Ranked #10

360 PSG | Ranked #23
Avalon Document Services | Ranked #54