I'm starting to wonder if the off switch at the Grandstream new phone model assembly line is broken because today they announced another new VoIP phone with even more on the way. The newest model off the conveyor belt is the Grandstream GXP2130.
What is it?
Of the latest enterprise grade VoIP phones in the GXP series Grandstream GXP2130 is the entry level phone; although, entry doesn't mean it is a stripped down phone. Quite to the contrary the GXP2130 has many of the same features as the GXP2140 and GXP2160 that were released at the end of last year. These similar features include a TFT Color LCD Display, dual gigabit RJ45 ports, support for PoE and EHS support with Plantronics headsets.
What separates the GXP2130 from the other models are some of the feature details and the specs. As an entry level phone the Grandstream GXP2130 has fewer line appearances (3), a smaller display (2.8″ (320×240)) and less programmable keys (12 in total).
Some of the key features and details of the GXP2130 include: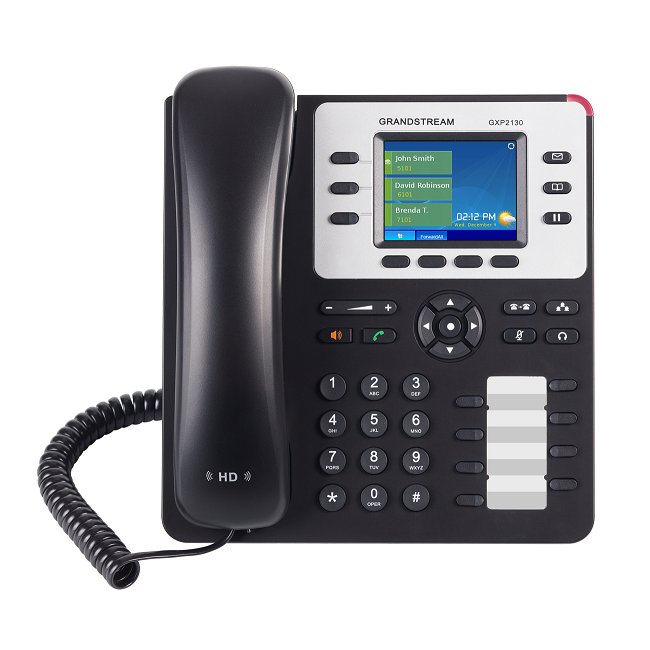 3 Line appearances
4 programmable context-sensitive soft keys
8 programmable BLF extension keys
Support for G.722 HD Voice
2.8″ (320×240) TFT Color LCD Display
Dual Gigabit RJ45 Ports
Built-in auto sensing IEEE 802.3 af Power over Ethernet
Universal Power Supply Included
RJ9 headset port
Support for Electronic Hook Switch (EHS) with Plantronics Headsets
Grandstream GXP2130 Datasheet
Who is it For?
From looking at the specs of the GXP2130 I see a few different users who may find it as a good fit for their telephony needs. The first one that comes to mind is a sales or customer service rep. The multiple line features would give the user the ability to handle more than one call at a time. Another area where there may be a strong use case for this phone is in public spaces such as lobbies or hallways. The programmable keys could easily be programmed to ring departments or individuals.
Pricing
The MSRP for the Grandstream GXP2130 is $99
Availability
This new Grandstream VoIP phone is scheduled to ship from VoIP Supply in early April. You can shop on-line for Grandstream phones on VoIPSupply.com or contact the VoIP Supply sales team at sales@voipsupply.com or by calling 1-866-582-8591.