First Look: VTech Conference, VoIP, and DECT Phones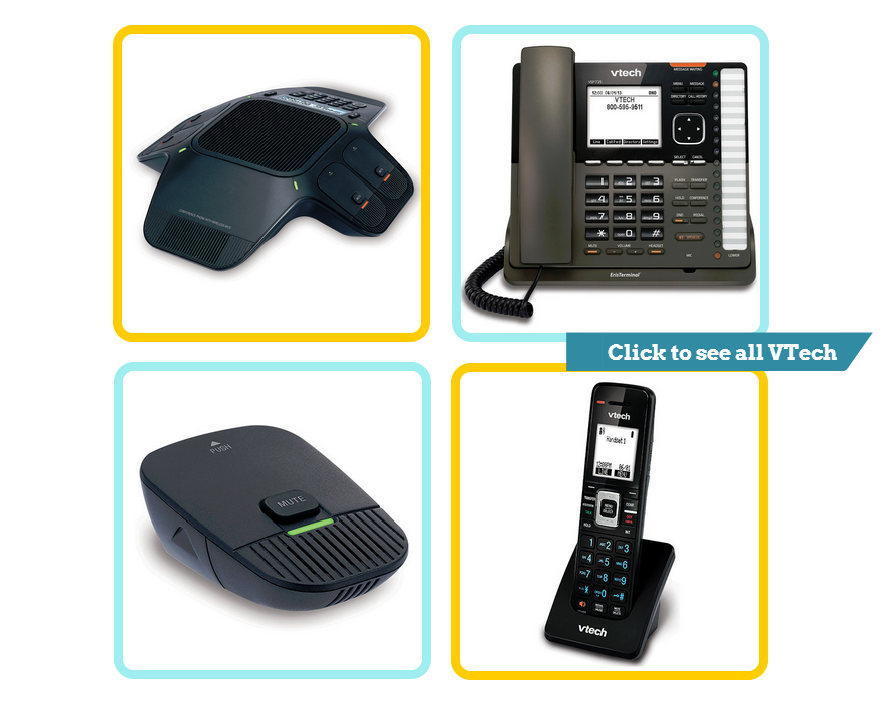 VoIP Supply has some new phone options with VTech conference, VoIP and DECT phones.
What Is It?
VTech is one of the world's largest manufacturer of cordless telephones and electronic learning toys for children.
They were founded in 1976 and pride themselves with providing high quality devices that are cost effective and innovative.
Right now we're offering:
VTech ErisStation Wireless Conference Phone
The VTech VCS704 ErisStation Conference Phone is a 2-line analog phone
PBX/PSTN compatibility
Features wireless DECT 6.0 microphones with Orbitlink Wireless technology, dynamic noise reduction, and automatic gain control to normalize audio levels
VTech ErisTerminal VoIP Phones
The VTech ErisTerminal VSP725 is an entry-level Power over Ethernet (PoE) VoIP phone
3-SIP lines and HD Voice
The ErisTerminal VSP735 is the 5-Line version with a larger backlit display.
Both phones have built-in DECT 6.0 radio that can be paired with VTech cordless headsets
VTech ErisTerminal Cordless DECT Phones
The VTech ErisTerminal VSP600 is a 6-line DECT SIP phone
Base station can be expanded up to 6 total cordless handsets
Each additional handset can be assigned its own unique phone number or extension to expand call coverage
Who Is It For?
Need flexibility?
Do you like to walk and talk with your office phone as you roam your warehouse?
Wish you didn't have to huddle around your conference phone like a campfire on a cold night?
The DECT capabilities of the wireless microphones included with VTech's VCS704 conference phone allows you and your co-workers to spread out around a room, allowing you to hook up the conference phone base unit wherever it's most convenient.
VTech DECT handsets provide mobile communication within your office so you can walk away from your desk and still stay connected.
VTech phones also come with a standard 2-year warranty backed by 20 years of handset experience.
Pricing
ErisStation Wireless Conference Phone:  $499

ErisTerminal VoIP Phones:  $99 to $159
ErisTerminal Cordless DECT Phones:  $79 to $149
Availability
VTech phones are available right now. Click here to shop all VTech phone options or call 800-398-8647 to speak with a friendly VoIP Engineer.