Guest Post: Choosing Phones for VoIP
Because of the great response for our Asterisk Contest, we decided to ask the participants if they would be interested in posting further information about their VoIP interests on the VoIP Insider. Many took us up on the request, and now here is our first post from randulo of the VoIP Users Conference.
Most of the processing in a VoIP system goes on behind the technology curtain, often with no warm and fuzzy interface. On the other side of the counter, the people actually using the phones have the most important need: usability. The usability of a telephone system depends a lot on the ergonomics of the phone itself. As I've said before at Astricon Paris 2006 and Asterisk Tag in Berlin, buy the phones the end users will be most comfortable with, not the ones you like for "geeky" reasons.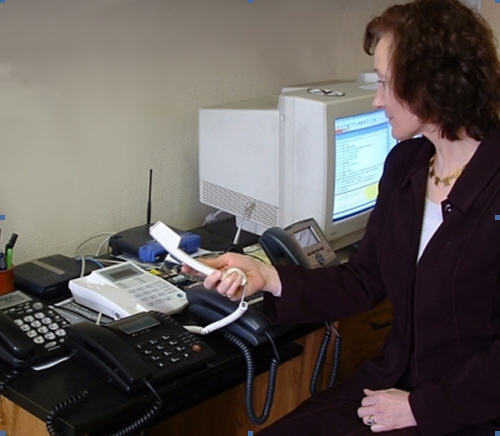 Photo of user holder phone
http://talkathon.org/uploads/user480.jpg
Credit: randulo
Let's Get Physical
This thing is sitting on your desk all day. You see it even when it's not in use and so do your customers and contacts if they come near your desk. Here is a list of things I'd try to check.
The phone's footprint and weight: Does it stay where you put it?
Old Phones:
http://farm3.static.flickr.com/2225/2433006089_fbf25ed575_m.jpg
Credit: A30_Tsitika link: https://www.flickr.com/photos/frozen-in-time/
Handset feel: the handset (and possibly a headset if used) are the most important things because they are being used for most of a call. One rule of thumb is that if the handset feels like it would break if you dropped it, it isn't good enough. Think about how robust the old phones of the last century were! Cisco and Polycom phones have solid handsets that have a very strong feel and good weight, but so do a few less expensive entry-level phones.
Buttons, size, number, placement and labeling: Many have complained about the button feel on cheaper phones. Are they too large, or too small? (The Grandstream BT100 series has huge buttons. Some may appreciate this.) I think Linksys/Sipura and again Polycom have good buttons.
Color and shape: Yes, many people wonder why phones do not come in more colors. Female co-workers are not usually crazy about phones that look like they should be in the situation room at the White House.
Phone menus: I personally abhor the Polycom ip500 menu, it's an exercise in bad ergonomics, but the phone's other qualities make up for it. Example: at least six button presses are needed to do a lot of operations, since you can't "Exit" without hitting "More" first. Linksys/Sipura does a good job with menus and the web interface not only works, but these phones boot in a few seconds.
Geekdom, Electronics and Firmware
Provisioning: if you have a small installation, you won't care. A large number of phones means you need a good provisioning system and phones that work with it.
Cordless technologies: Are Wifi SIP phones any good? I have heard a lot of criticism about Wifi SIP phones. I am using a Siemens S675IP which is an incredible DECT SIP phone I reviewed here. In short, it connects to a PSTN line and functions as a cordless phone and answering machine with up to six handsets. The added feature is that it can connect to up to six SIP providers, read email and RSS feeds (in a very limited way), and it works great with our Asterisk office pbx.
Protocols and codecs: which codecs does your operation need? We mostly use the lossless ulaw, but you may have different bandwidth or sound quality requirements. Most of us use the SIP protocol on hardphones, but there are more and more IAX2 hardphones available. The Allnet 7960 does both at once! That is, you can use both SIP and IAX2 by configuring different lines and not need to change the firmware as you do with most phones.
Power source: I prefer a phone that comes with a 100-250v adapter, but if you have PoE available, you probably want to use it.
Memory for directory: this is sometimes an important difference between older and newer models.
Line instances: are there enough, or is it expandable to more lines?
In the end, one of the best reasons to go to a large VoIP conference, be it Astricon or something more general, is to get a close look at the phones. If at all possible, drag a co-worker who uses the phones a lot with you and make careful notes of what he/she thinks. Then take a look at VoIP Supply's phone page and see what they have available for you. (Hint : call them up and discuss your needs.)