How-To Choose Where You Hear Sound Effects on the Polycom VVX300
Every workspace is different.  Some of us that work in call centers can be in a close-quarters environment where you are working alongside several coworkers, and others may have their own office in order to maintain focus on large projects.
No matter where you find yourself working, if you have a desk, chances are you have a phone to go with it.  Depending on where your desk is, you may find yourself in a situation where your phone could be a bother to the people around you.
Obviously, if you have an office to yourself, you can easily close your door and make calls on speakerphone and not disturb anyone, but if you share an area divided by cubicles, then you run the risk of being an annoyance to your neighbors.
Naturally, you are going to be heard when speaking on the phone, that is to be expected; but what about the phone itself? Its ringtone is one thing, but a lot of times phones can give off other noises that can be annoying to others.  A great example of this would be the sound effects your phone produces when pushing buttons.  Whether you are dialing, scrolling, or changing your menu options, your phone will most likely omit some sort of beeping effect.  Over time, this can become somewhat of a nuisance to your coworkers.  Luckily, the Polycom VVX 300 has you covered!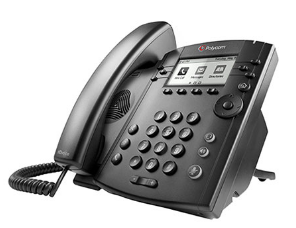 How-To Choose Where You Hear Sound Effects on the Polycom VVX300
While this may be considered an entry level phone, the VVX 300 it is still packed with tons of features that other phones in its class, may be lacking. One of those features is the ability to choose where you hear your sound effects.
By default, all sound effects are going to come out of the phone's speaker, but it only takes a few quick changes in settings to route your effects to either your handset or your headset. Here's how:
Select Settings from the Home view, and then select Basic followed by Preferences and then Audible Ringer.  Once there, you are able to select where you want to hear your sound effects!
If you want to to make them come out of your handset simply select Handset. For Headset, select Headset.  Lastly, you can select Active.  By doing this, the phone will actually omit the sound effects out of whatever you are using, how cool is that?
So if you currently have a VVX 300 on your desk, and your coworkers keep giving you dirty looks every time you dial a number, just follow these easy steps to keep your sound effects to yourself!
Are you currently using the Polycom VVX 300? If so, let us know what you think!