How to Combat Gray-Market Poly Devices on Amazon
Are you struggling to compete with low pricing Poly devices on Amazon? We feel your pain! To help you combat the gray market, the VoIP Supply team put together a list of strategies you can follow to win back your deals!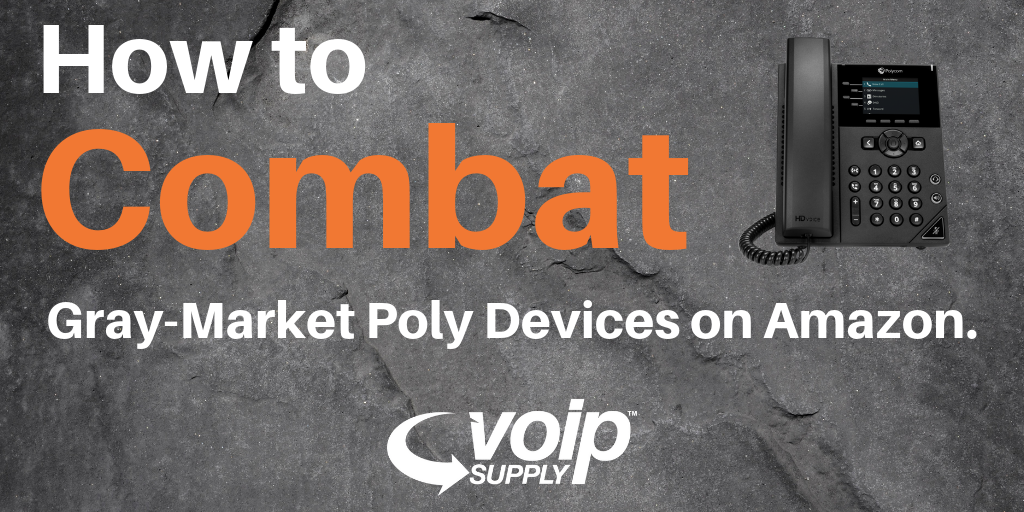 How to Combat The Poly Gray Market on Amazon
#1 Authorized Partner: Tell your customer that you are an Authorized Poly Partner. Poly can generate an official letter for you to this effect. 
#2 Warranty: Let your customers know that you only sell authorized NEW products and they are fully covered by Poly's manufacturer warranty. Anything purchased from an unauthorized source is at their own risk such as having defects, missing accessories or components, etc.
#3 Promotions: Poly offers great rebates and promotions frequently. Explain to your customer that gray market devices are not eligible for Poly promotions.
#4 Configuration: Explain that you offer FREE configuration services on devices you provide. Let your customer know that if they  use BYOD (Bring Your Own Device), that you'll need to charge a "configuration fee" because the device is not passing through your warehouse for pre-configuration and thus your workload is much greater.  We often see $10 to $15 per phone as a configuration charge  
#5 Support: Explain that you fully support and troubleshoot the devices you sell but cannot guarantee ability to troubleshoot a BYOD. You should also highlight that you fully handle returns/RMA's and the advanced replacement (if you have that).
Lastly, share our blog post with your customers: 5 Reasons Why You Should Purchase From an Authorized Poly Partner 
If you need more assistance, give us a call at 1-800-398-8647. What are your strategies of combating gray markets? Are they effective? Share with us!