How to Register Snom's C52 Wireless Speaker Phones to The C520 SIP Conference Phone
Out of all the conference phones VoIP Supply carries, Snom's C520 is one of my favorites. One reason being that the C520 comes with 2 detachable, wireless DECT mics, allowing presenters to roam in the room and make your meeting very interactive!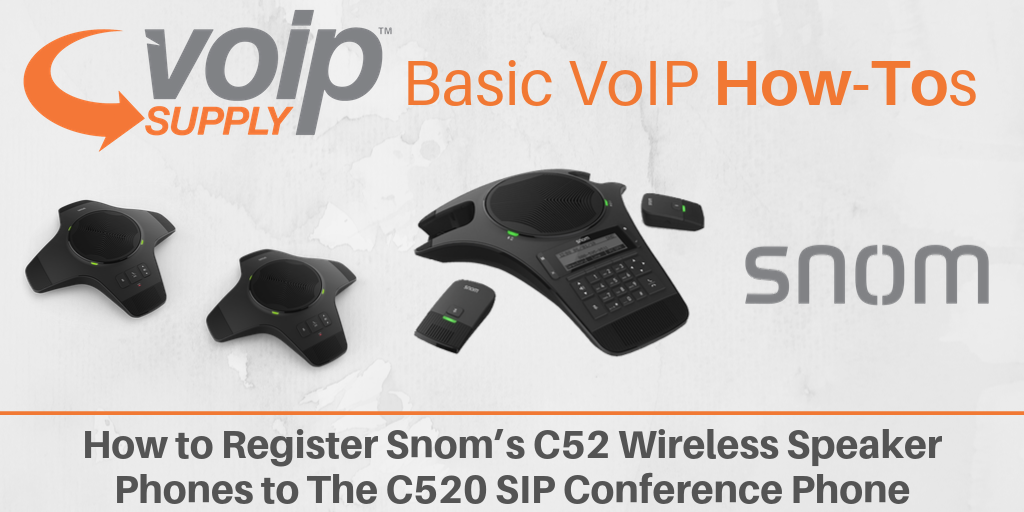 Secondly, for a larger room setting, you can even further extend the range of the C520 with up to three wireless DECT Snom C52 Speaker phones! Now you just need one C520 conference phone for all your needs. 
Is it complicated to connect the C520 to a wireless speaker phone though? You asked. Not at all! Check out how simple and quick it can be done within seconds: 
How to Register a Speakerphone to The C520 SIP Conference Phone
Registering a C52 speaker phone to the C520 conference phone is quite simple! Just follow the steps below:
Put the battery pack in the C52, connect the power adapter and plug it into the wall outlet. The LEDs on the C52 will flash orange slowly.

Press white registration button underneath the battery compartment for about 5 seconds until its LEDs are flashing red and green alternatingly.

On the C520 SIP conference phone, press the setting icon:


In the

Main Menu, press

(or highlight

3 User Settings

and press the check mark

✔

)

In the

User Settings menu, press

(or highlight

6 Wireless speaker

and press the check mark

✔

)

Press 1 to register the C52 speaker phone. The screen will display

Registering…

and then

Registration succeeded

. The LEDs will then turn green briefly and turn off while red Power LED turns on.

Now repeat the process for an additional C52 speaker phone. To cancel registration, simply press

X

.
Note that if a speaker phone is already registered to the phone, you must first deregister all speaker phones before you can register a new one. Also, if a DECT headset is already registered, you can only register up to two C52 Speaker phones.
Have you successfully registered your speaker phones to the C520? Do you want to learn more about the C520? Check out our product page or download the user manual here!