How to Reject Calls from a Contact on the Polycom VVX300
It is hard to imagine life without Caller ID. I know I am not alone when I say that I barely know anyone's actual phone number anymore. Once they are added to my contact list, their name is all that matters.
These days, the same can be applied to your desk phone at work, with the power of VoIP technology, you are able to use your desk phone just like you would use your personal cell phone.
Most of the time, these phones have just about every feature your cell phone has, and in some cases, even more features! I have written past blogs about IP phones having cameras, recording video, and even custom ringtones in the past, so I know the possibilities are basically endless.
But because this is a basic blog that deals with the simplicity of VoIP, I am going to use the Polycom VVX300 as an example. This is an entry-level phone, it has nothing flashy about it, but it is packed with features!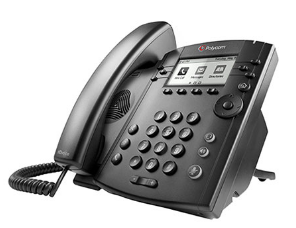 One of these features just happens to be a contact list. You are able to add phone numbers to your VVX300 phone book just like you would on your cell phone. And because we all have that one person who calls all the time, but we never want to answer, you can do more than just ignore the call like you would on your cell phone. You can have the VVX300 automatically reject the call!
How to Reject Calls from a Contact on the Polycom VVX300
To do this is simple. If you absolutely never want to take a call again from an annoying telemarketer, or say, an ex that keeps calling you at work? Then follow these easy steps!
Select

Directories

from Home view, and select

Contact Directory

From your directory, use the up and down arrow keys to select the contact whose calls you want to reject, and press

Info

From the contact's information screen, press

Edit
From the Edit Contacts screen, use the up and down arrow keys to select Auto Reject

, and select

Enabled

, and then press

Save
And, POOF! From now on, every time that contact calls your Polycom VVX300, the call will automatically go to Voicemail. The one thing this phone cannot do automatically delete your dreaded contacts Voicemails. You will have to do that manually.
Do you have a Polycom VVX300 on your desk? Do you use the Auto Reject feature? If so, who keeps bugging you? We want to know!