How to Set the Screensaver Wait Time on the Polycom VVX400
Having a screensaver on your VoIP phone is just one more way to customize your work space. This can also be a nice thing to have activated if you are away for an extended period of time, as it can disguise any information that may be displayed on your phone's home screen when you are not at your desk.
Having your screen saver activated can also be a good indicator to coworkers that you have been away from your desk for a while. Maybe you have the day off, you're in a meeting, on the road, or simply on your lunch break. No matter what the reason is, it seems that more often than not, most people have an active screen saver.
One way to take your screensaver to the next level is to customize its Wait Time. By doing this, you can adjust the time it takes for the screensaver to activate, and it's pretty easy to do!
If your phone has a display screen, chances are you have a screensaver option. For the sake of this blog, we will us the Polycom VVX400 pictured below: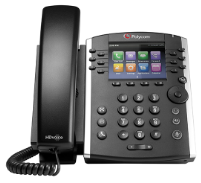 All you have to do is to select Settings from the home screen. From there, you will select Basic > Preferences > Screen Saver
Once you are in the Screen Saver settings, you can make sure it is activated by selecting Enabled. After that, you can select Wait Time and enter the number of minutes your phone should wait after no activity before displaying the screensaver.
You can enter anywhere from 1 minute, all the way up to 9999 minutes! The default amount of minutes is set for 15. After you have entered your desired amount of minutes, you are then able to save your new Wait Time by pressing Save.
Once you hit Save your screensaver will be set, and ready for action. This is, of course, how to change the Wait Time setting on the Polycom VVX400. I will note that most VoIP phones with display screens will have a screensaver option, with a very similar way of changing the Wait Time.
Learning how to adjust your screensaver Wait Time is just one more easy way to customize your office phone, and utilize yet another VoIP feature that many people may not know about.
Although I would have to say that one of my favorite VoIP phone features is changing the background of your display. This is something that not all VoIP phones have, but if you can change your background, it is a great way to give your office a personal touch.
Changing your background is typically not something that can be done directly from your phone, and its a bit more advanced for VoIP beginners. Oftentimes a new picture needs to be uploaded and applied through the PBX Web Interface (GUI). Maybe this is something we can explain further in our next post? Or maybe there is something you would like to learn how to do on  your phone! Write your suggestions in the comment section below and we just might use that as a future post!