How to Shop for a Green-IP Office
VoIP Supply is proud to do everything we can to contribute to a sustainable future.

Our company has taken initiatives to cut back our carbon footprint by allowing employees to work from home one day a week (or occasionally more), recycle all the shipping material we receive, recycle as much trash and paper as we can separate, host our warehouse as a drop-off site for SunnKing's E-Scrap 4 Camp, and participate in the Buffalo-Niagara Riverkeeper Shoreline Sweep every spring/fall to pull pounds of trash out of one of the many waterways in Western New York. We've even made B-Corporation company status through our sustainable efforts. Working to create a better tomorrow is the heart of our company, and with that, we wanted to share with you some of our favorite brands who focus on the same causes as us so we can all make a better educated purchasing decision.
ADTRAN
VoIP Supply is proud to offer ADTRAN's series of devices, including the NetVanta series. Many of the NetVanta switches, routers, IP business gateways and IP telephony systems include eco-sustainable features, primarily Power over Ethernet functionality. PoE is one of the most sustainable approaches one can take towards a greener lifestyle: it contributes to decreased energy consumption and increases your cost savings with lower wattage usage. ADTRAN also works to ship their products in the most eco-friendly packaging possible, they comply to worldwide RoHS (Reduction of Hazardous Substance) and WEEE (Waste Electronic and Electrical Equipment) directives, follow the downstream user obligations under the REACH directive, and attained ISO 14001 certification.
Cisco
Cisco is one of the most well known names in the VoIP industry; their logo was recognizable to me before I even knew what a gateway was. With that kind of industry dominance, Cisco focuses at being a global leader of sustainable efforts. Their commitment to sustainability has been awarded, recognized by top industry magazines, and comply to environmental standards such as ISO 14001, Global Reporting Initiative, and GHG protocol. Since 2006 Cisco has been working to reduce their energy and greenhouse gas production. All previously set goals have since been reached and now they're working on lowering it further. In order to meet these new goals, they have to design their own products to emit the lowest waste possible, meaning for every Cisco product you buy, you're doing likewise.
Jabra
As a leading headset manufacturer, Jabra recognizes that they have a certain example to set. Therefore, Jabra complies with REACH and has obtained ISO 14001 certification in the efforts to reduce their inclusion in the amount of technological waste that is growing in our landfills. They aim to use as little material as possible to reduce plastic consumption, use biodegradable material, and move as many headsets with as little fuel usage and packaging as they can.
MOBOTIX
These unique IP cameras from Germany weren't originally created to be a green product; they just naturally were. All MOBOTIX cameras are robust, solid, and weatherproof, and more often than not, a MOBOTIX camera will last for up to 9 years or longer. There are no moving parts to wear and tear before the life of the camera gives up. That also accounts for the low wattage the camera uses over Ethernet (PoE). You guessed it: that keeps money in your pocket, energy saved, and electronics out of landfills. Rarely are electronics made to last a decade, but MOBOTIX is.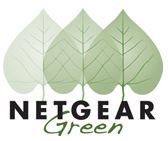 NETGEAR
NETGEAR committed itself to the green initiative by creating it's own level of standards. NETGEAR Green is a verification that the particular product either meets or exceeds
global environment standards. These standards include but are not limited to: RoHS, Energy Star, WEEE, CEC, REACH, and Battery Directive. NETGEAR Green includes a variety of routers, switches (both managed and unmanaged), ProSafe switches, storage devices and Powerline.
Polycom
Much like Cisco, Polycom is too large and influential to let an opportunity like letting a global sustainability initiative pass by. As part of their corporate social responsibility, they launched the Polycom Takeback and Recycle Program and included the 'Crossed Wheelie Bin Symbol' on their products to advise customers not to throw Polycom products away in the municipal trash, but to dispose of it as e-waste. With that kind of approach to recycling, it's probably no surprise to you that they comply to the RoHS, WEEE, and the Battery Directive as well.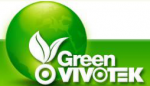 VIVOTEK
In an effort to lower CO2 emissions, VIVOTEK turned their attention to the green cause in 2006 when they were certified for ISO 14001 and IECQ HSPM QC 080000. VIVOTEK also complies with RoHS, EUP, and WEEE directives. Green VIVOTEK is directly aimed at proactively reducing the amount of hazardous materials used in production, storage management, and degradable package consideration. Best part: Green VIVOTEK isn't just a line; like Cisco and Polycom, they apply these standards to all their products.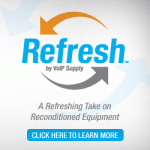 VoIP Supply Refresh
Yup, a shameless plug, but I come by it honestly. At VoIP Supply we've been taking gently used VoIP equipment and tested it, vigorously cleaned it, and repackaged it to provide a lower cost alternative to brand name products. Our Refresh line has saved thousands of perfectly good—albeit old—phones, cameras, switches, gateways, and TDM cards from going in the trash and made several people who are more concerned about cost than age very happy. It's a great department within our company and we all get that warm fuzzy feeling when we watch those hundreds of devices move through our warehouse instead of going in the trash…well, instead of going in the E-Scrap for Camp bin; at VoIP Supply the only thing we tend to throw away are leftovers and Kleenex's (the business park was against a composite bin).
I hope this blog post helps you look into outfitting your office with equipment you can feel good about.  If you're looking for a new phone system, consider powering it over the Ethernet as an eco-friendly, cost saving, and future proof method. Call the experts at VoIP Supply at 1.800.398.8647 to help get started on your Green office today!
For more information on the sustainability efforts of these and other IP companies, see the links below.
Adtran Sustainability
AudioCodes Quality, Safety and Environment
AVerGreen
Cisco Environment
ClearOne Green Initiative
Jabra CSR and Environment
Konftel Environmental Policy
Logitech Social and Environmental Responsibility
Panasonic Environment
Patton Environment
Polycom Recycle Program
ZTE Environmental Protection