How To Use The Navigation Keys on the Snom D725
When it comes to using your VoIP Phone at work, it can be very beneficial to know all the ins and outs.  What do I mean by that? I mean that your VoIP phone can do more than just answer calls, and dial calls.
Depending on your job description, there are often things that your VoIP phone can do that can help aid you in your daily work, and sometimes, these things can be hidden!  What do I mean by that? I mean that sometimes a button can do more than what it is labeled for.
In the past I had written a blog talking about all of the things an arrow key can do other than navigate through your phone's interface.  This blog is similar, but it focuses on the unique set of navigating keys on the Snom D725.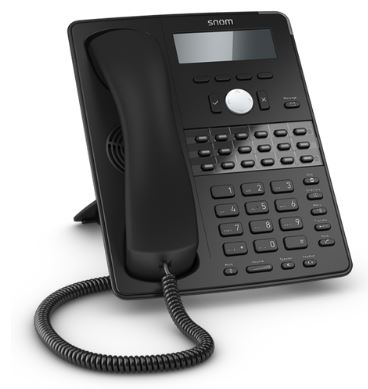 Right on the phone's front face, on either side of the navigation circle, is a button marked with a "check" and one marked with an "ex".  These are considered to be a part of the "navigation key" family and can do a few different things!
To start, the navigation key labeled with a checkmark can most obviously confirm and save actions.  However, the less obvious is that this button can also return you to the previous screen, accept calls on speakerphone and in headset mode.  Lastly, this button can also redial from the idle screen!
This buttons counterpart, the X-mark button, can obviously cancel actions, but what you might not realize (if you are lucky enough to have a Snom D725 on your desk) is that this button can also terminate calls on speaker phone and in headset AND handset mode.
A couple more things that this button can do are turning off the call LED after a missed call, and like its buddy, it can also return you to your previous screen.
And there you have it!  I feel like that is quite a lot packed into just two buttons on a phone that has 47 buttons! Did you know these buttons full potential before reading this? Do you have any other tips for the Snom D725? Let us know!