How to Utilize The Bluetooth Feature On Grandstream GXP2140
These days, Bluetooth integrated VoIP phones are becoming the norm, and if you are not taking advantage of this awesome feature, you are missing out.
Here is a quick How-To on syncing your cellphone with the Bluetooth enabled Grandstream GXP2140. (Don't worry, almost all VoIP phones with this feature will work with Apple or Android)
The first thing you are going to want to do is make sure that Bluetooth is turned on, on your mobile device.
Second, push the round Menu button on the front of your GXP2140 to bring up the main menu. From the main menu go to System. Next, you can scroll down and select Bluetooth.
From the page, you will be able to turn on Bluetooth if it is not on already. Once Bluetooth is turned on, the next step will be to select Start Scan from this menu page. This will bring up a list of all Bluetooth devices that the GXP2140 has discovered.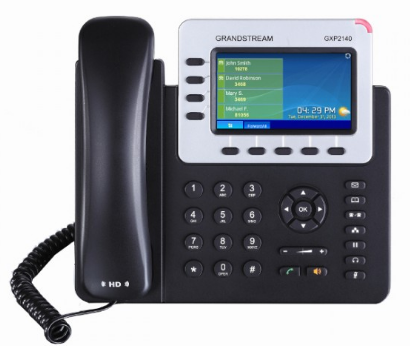 Once you have selected the device you would like to pair (in this case it would be your cell phone) it will ask you for a PIN. Simply enter the same PIN on the GXP2140 that you have entered on your cell phone and you will notice your device will change from Unpaired to Paired to Connected on the GXP2140.
Now that you have paired your cell phone with the GXP2140, you can then go back to the previous menu page and turn on Handsfree Mode. Doing this will enable you to not only transfer calls to your mobile device, but also sync all of your existing contacts to the GXP2140.
Once returning to the homepage on the GXP2140, you will see an icon that shows your cellphone is connected, and you will be able to search your cell phone's contacts via the Contact Button on the front of the phone. This is the button that has the Book icon.
It really is that simple to connect your cell phone to your GXP2140, and soon you will be able to enjoy all of the additional Bluetooth features the GXP2140 has to offer!
For additional information and video regarding the Grandstream GXP2140, please visit our website.