June Hardware Roundup: Infrared Camera, New Android Phone, and New Multi-Color Strobe Light!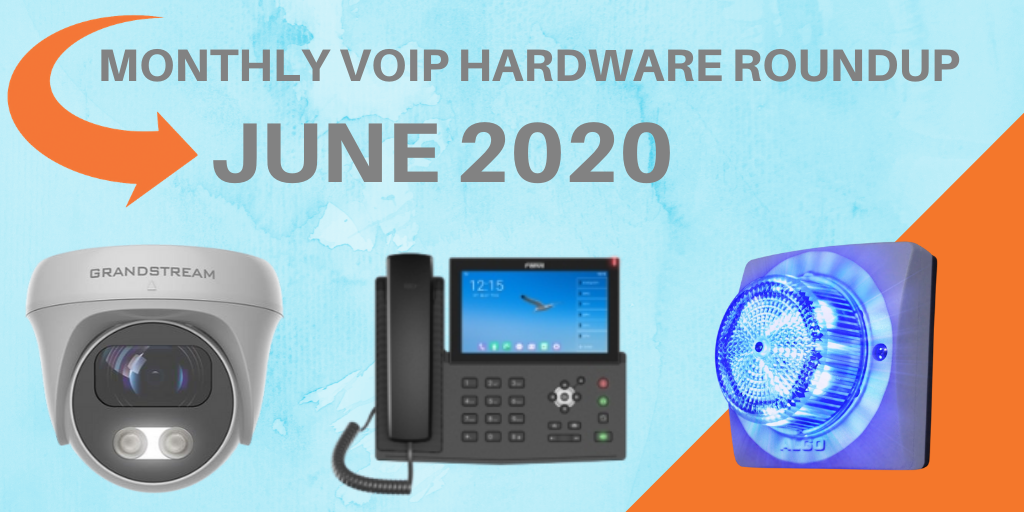 June is an exciting month at VoIP Supply! This month, we introduced quite a few new products, ranging from security dome cameras, Android phones, to multi-color strobe lights. Let's dive in!
Grandstream is excited to introduce its new weatherproof infrared dome and bullet SIP cameras with a 3.6 mm lens! The GSC3610 & GSC3615 are ideal for wide-angle monitoring of nearby subjects in banks, hotels, retail stores, offices, and more places. These cameras support motion detection and smart infrared technology for white balance and exposure. Learn more here!
Key Features:
Supports motion detection
Smart infrared technology for optimal white balance and exposure
Built-in PoE to power the device and provide a network connection
Supports alert notifications via outbound voice or video call & email screenshot
IP66-level weatherproof capability
Don't miss out on Fanvil's latest addition, the X7A Android Phone! The X7A runs on the Android 9.0 system and features built-in WiFi, 112 DDS keys, and a screen definition of 1024*600 LCD.
Key Features:
20 SIP lines, 3-way conference, hotspot
7" capacity color touch-screen
HD voice: HD handset, HD speaker
Built-in Bluetooth 4.2 and 2.4G/5G Wi-Fi
Up to 112 DSS keys available at the display
We are co-hosting a webinar with Fanvil to give you a sneak peek at this new innovation! Join us on June 23rd at 2 PM to learn about how you can win with Fanvil's X7A!
Check out Algo's highly visible multi-color strobe light! The Algo 8138 SIP Strobe is Power over Ethernet (802.3af) four-color (amber, blue, green, and red) IP endpoint.

This PoE multi-color strobe light will make your work environment extra safe! It is ideal for noisy facilities, where protective hearing is worn, and/or where an emergency notification needs to be made.
Key Features:
Supports RTP multicast, in addition to Polycom Group Page, and Singlewire InformaCast
SIP compatibility with leading UC vendors / VoIP platforms.
Configurable through a web interface.
Auto-provisioning (i.e., TFTP, FTP, HTTP, HTTPS). Also supported: TLS & SRTP, SIP over TCP, DNS SRV Record, and CDP/LLDP automatic VLAN assignment.
PoE (IEEE 802.3af)
See more new VoIP products here or simply give our VoIP experts a call at 1-80–938-8647 to learn more!