The Microsoft-Skype Deal Was About Facebook The Whole Time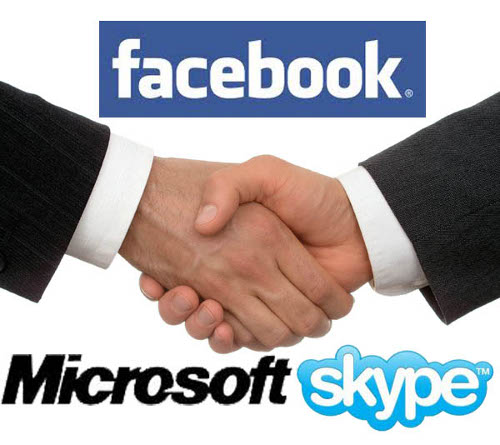 Microsoft, Really?
Months before Skype was scooped-up by Microsoft for $8.5 billion dollars there was tons of speculation as to who may ultimately purchase Skype.
Would it be Google, who could bolster its Google Voice offering? Or maybe Apple, who with Skype could be come an even more disruptive force in the wireless communications space.
Others still speculated that Facebook should buy Skype. Given that Facebook aims to transform the way we communicate, adding Skype would only further that aim.
Almost no one thought Microsoft would buy Skype. Yet that's exactly what happened.
Weeks after the announcement many are still wondering why exactly Microsoft shelled out $8.5 billion for Skype. It's a lofty price to pay for a low cost service that isn't exactly printing money.
And while there certainly are some synergies between existing Microsoft products and Skype, they're not exactly awe inspiring.
So what is really going on here? I call it the big brother effect.

Don't Worry, Big Brother Will Pay For It!
I know a lot about being a big brother. I've got two younger brothers myself.
It's a cool role for sure; except that at times you are treated like a human ATM. That's right; when mom and dad can't pay, you are there to "save the day."
Doesn't matter if it clothes, shoes, lunch, dinner or speeding tickets. When you are the younger sibling and you can't swing it…you ask big brother.
Little Brother Facebook Couldn't Afford Skype
Of all the companies that seemed to be suitors for Skype, Facebook did indeed make the most sense. Facebook is a communications platform, of which voice, video and sharing must be a part of (all things Skype does well).
Till the recent Skype integration with Facebook, Facebook did not have solid voice or video messaging capability. It needed it badly to further extend it's platform's utility for users.
Except Facebook couldn't afford Skype. It's true that on paper Facebook is worth more than Skype, but Skype was owned by private equity, venture firms and individuals who clearly wanted cash, not stock, for Skype (hence the IPO).
In others words Facebook stock wasn't an attractive option. Enter Microsoft.
Microsoft: The New Facebook Utility Provider
Say what you want about what Microsoft currently lacks: vision, innovation, creativity; if there's one thing they don't that's cash.For them $8.5 billion was nothing more than an investment in the future of their little brother and their relationship.
With a 1.6% stake in Facebook, Microsoft has a nice sized financial position in the company. They also power Facebook's search functionality. And at one time they even powered Facebook's advertising.
Throw in the recent voice and video calling powered by Skype and Microsoft is now the dominant utility provider on the Facebook platform; not such a bad place to be when you consider the growth and usage increases Facebook continues to see.
Plus this integration further exposes Skype to generations of users who quite possibly never heard or used the service before; all who can be monetized. Not mention other Windows products.
Only Time Will Tell
Only time will tell if this move proves successful for Microsoft, but if the goal was to have Microsoft become more ingrained with Facebook, well it looks like they've already succeeded.