Netgear Released 28-Port Smart Cloud Switches with Remote Management Capabilities!

Netgear, Inc., a leading provider of VoIP networking devices, released their two new Smart Cloud Switches to offer even more capacity for growing businesses! These two switches are part of the award-winning Netgear Insight™ management solution.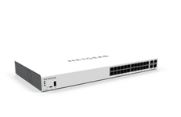 NETGEAR Insight Managed Smart Cloud Switch (GC728X) is the first 28-port Gigabit Ethernet Switch from NETGEAR with anytime, anywhere remote/cloud management.
24 copper Gigabit Ethernet ports

2 SFP Gigabit Ethernet and 2 SFP+ 10G fiber ports

remote cloud manageability

advanced L2+/L3 Lite features
NETGEAR Insight Managed Smart Cloud Switch (GC728XP) is an Insight Managed 28-Port Smart Cloud Switch that offers Power-over-Ethernet (PoE+) with a healthy 390W power budget to better support the growing demand for PoE devices such as VoIP phones, IP Security Cameras, wireless access points, proximity sensors, door locks, and other IoT devices.
L3 static routing and full duplexing

non-blocking switching with 92Gbps line rate fabric, so you'll get all the bandwidth you expect from its 26 ports of Gigabit and two ports of 10-Gigabit connectivity.
Stay tuned! These two new products will be available on our site soon!