New VoIP Hardware & Software Roundup – December 2019
Christmas is right around the corner! Before we say goodbye to 2019, don't forget to check out these new VoIP headsets and IP phones! This December, the new Poly headsets and Snom DECT phones are our two big highlights. Let's dive in: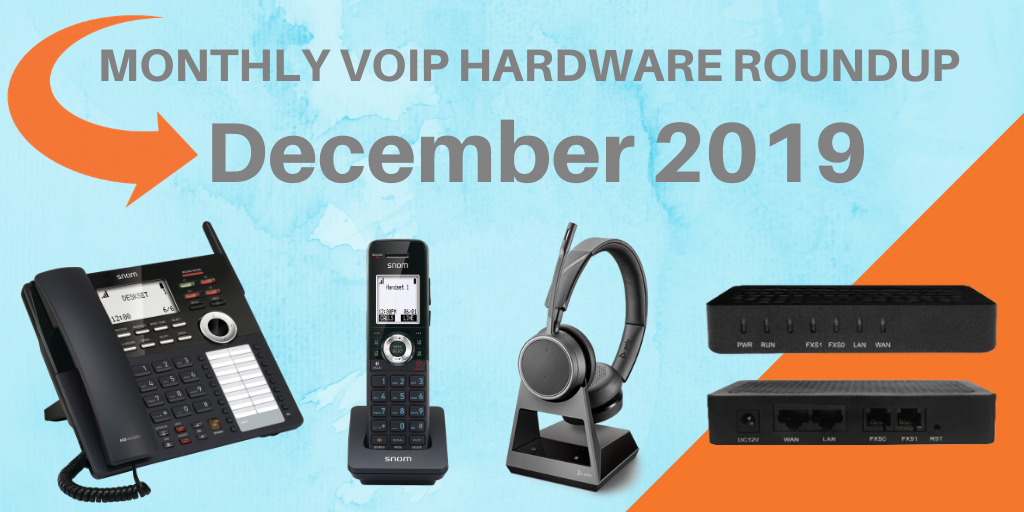 Poly New Voyager 4200 VoIP Headsets
Poly recently introduced their new Voyager 4200 Series! What's special about these new Voyager family members? These VoIP headsets come with a dedicated Teams button, both on the base and the headset.
Designed for mobile office workers, these headsets provide multiple connectivity options and a variety of wearing styles. These headsets are currently in stock! Get one of these to try it yourself!
Snom M1 Series DECT Phones
If you are looking for a wireless VoIP Phone for your active, on-the-go workplace, you can't miss out on Snom's M-KLE series DECT phones! These phones come with easy calling features and deployment options. The Key System Emulation feature allows you to easily handle calls with shared line appearances/shared call appearance across all cordless phones.
This series includes the M10 and M10R DECT handsets, M100 base station, and M18 DECT deskset. They are all currently available on our website. Order here!
Xorcom New GW00 Series FXS Analog VoIP Gateways
We hear new updates from Xorcom frequently. This time, they are introducing 4 new FXS analog VoIP gateways with built-in high-speed NAT router to bridge between IP-based telephony networks and legacy telephones seamlessly. These analog gateways come with up to 75 FXS ports and support fax over IP through T.38. All units are Elasitx and Broadsoft certified!
Ready to learn more new VoIP hardware? Go to our website at www.voipsupply.com!