Q&A Blog: Does the Grandstream GSC3506 One-way SIP Intercom Speaker have Multicast Paging?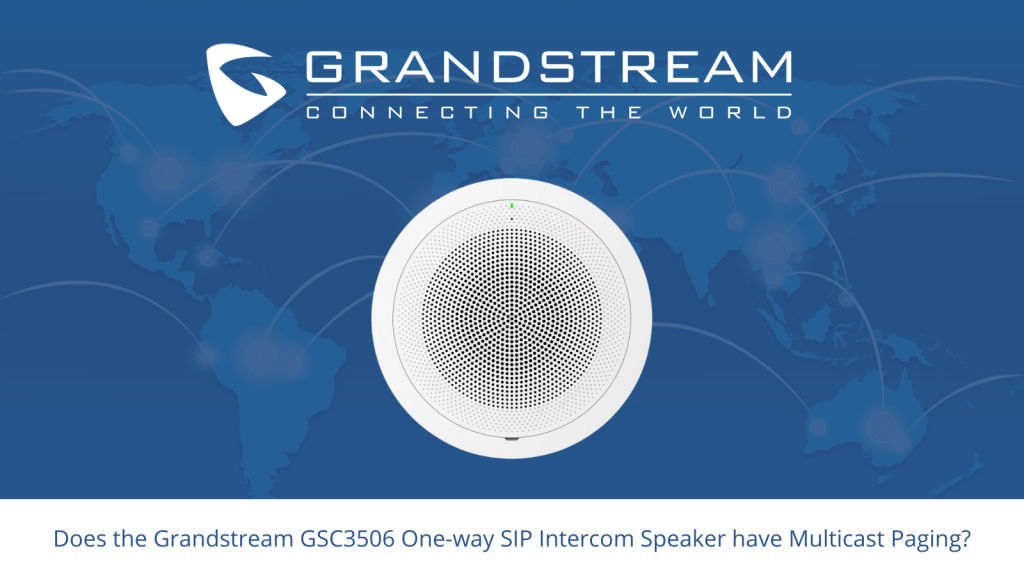 The Grandstream GSC3506 One-way SIP Intercom Speaker is a one-way public address SIP speaker that allows offices, schools, hospitals, apartments, and more to build powerful public address announcement solutions that expand security and communication. This SIP speaker supports integrated dual-band 802.11 a/b/g/n Wi-Fi and Bluetooth functionality, SIP paging and multicast paging.
Multicast paging on the Grandstream GSC3506 One-way SIP Intercom Speaker allows different SIP users listen for paging calls from a common multicast IP address. In multicast paging calls, an audio connection will be set up from sender to receiver, but the receiver will be only able to receive audio, a one-way communication. The two entities, Sender/Receiver, must be located on the same LAN (same broadcast domain).
To receive a multicast page, the GSC3506 must be well-configured to listen to the right address and port. The configuration is located under Phone Settings → Multicast/Group Paging. Up to 10 listening addresses are supported with priority levels from 1 to 10.
Multicast paging configuration requires a reboot to take effect.
Users can enable the "Paging Priority Active" option (under the Multicast Paging tab) to accept incoming paging calls during active multicast paging. The paging call with a higher priority than the active one will be accepted.
In the case of receiving a multicast paging call while on a unicast SIP call, the GSC3506 can choose to either keep the SIP call or hold this last and allow the multicast call, depending on the paging call priority.
This can be set using the "Paging Barge," option. If the option is set to "Disabled" all incoming multicast paging calls will be dropped while on a SIP call. If the multicast paging call has higher priority than the value set on "Paging Barge", the SIP call will be put on hold and the GSC3506 will be the incoming multicast paging.
Visit VoIP Supply's product page or give our VoIP experts a call today at 1-800-398-8647 to find out more information!
Have you set up multicast paging on your Grandstream GSC3506 One-way SIP Intercom Speaker and have thoughts or comments you'd like to share? Please leave a comment below.