Q&A What IP Paging Solutions Work with Cisco?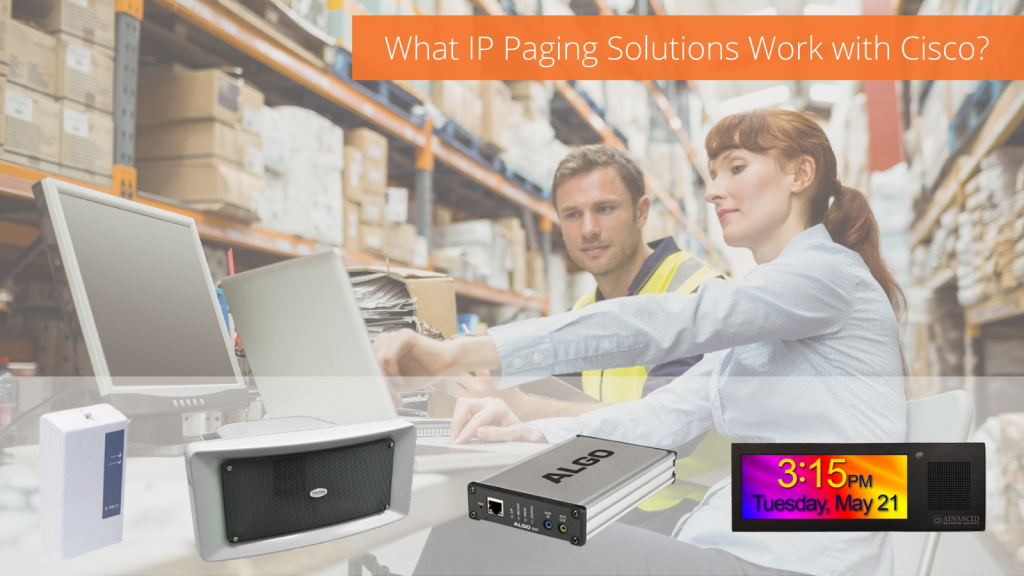 More and more of our customers are looking to integrate their systems to ensure that all of their devices are able to communicate with each other, especially in emergency situations.
One question that has been coming up quite frequently is what IP paging solutions are compatible with Cisco Call Manager. I am going to break down a couple of options that you can consider, but I also really encourage you to reach out to us, because our partnerships allow us to offer free design services to ensure you are getting everything you need.
To start, I would like to say that you are in luck because there are a couple of options depending on your situation. Our partners at Advanced Network Devices, Algo, CyberData and Valcom all have solutions that will work with Cisco.
So let's start with Advanced Network Devices, their products are designed and built in the USA. They offer a wide range of IP Speakers, Buttons, Modules, Intercoms and Visual Alert solutions that are all compatible with Cisco Unified Communications Manager, as well as, mass notification software platforms like Singlewire InformaCast and Intrado Revolution. They are also a Certified Cisco Solutions Partner. Because of this partnership, you are able to easily connect their devices to your Cisco system and manage the devices from the UI (user interface) you are comfortable with. Advanced Network Devices also offers ClockWise Campus (PC-based) which allows full control of Advanced Network Devices IP PoE displays, speakers, and hubs. Check out Advanced Network Devices LLDP-MED Configuration with Cisco Switch guide!
Next, let's talk about Algo Solutions and how they can integrate with your Cisco IP System. They are another Certified Solutions Partner with Cisco, which again makes them a great option to work with when you are considering a paging solution. Algo also offers a couple of cool products that can help you integrate a legacy analog paging system to a Cisco telephone system by using an Algo 8301 paging adapter. 
CyberData is another great option! All of their products are multicast capable which is important when you are trying to integrate with Cisco phones. You will need to ensure your Cisco phones are running firmware version 7.5.4 or higher. CyberData offers a wide range of compatible devices and they have some great resources for you to reference when you are ready to start setting up your solution, such as a SIP Speaker Cisco Call Manager Server Setup Guide and much more! 
Last but not least, let's talk about Valcom! They offer a product of their own as well called the Valcom SIP Paging Adapter. This product allows you to connect to any PA System without the added expense of an ATA or Media Gateway. This product supports legacy analog systems as well as new systems. They are also a Certified Cisco Solutions Partner and offer additional resources for you to reference when implementing their solution.
To see a full list of Advanced Network Devices, Algo, CyberData and Valcom products, visit the VoIP Supply website. As mentioned earlier, if you need assistance or have additional questions about any of these solutions reach out to our VoIP Experts, who combined have over 60 years of experience with these systems and solutions. All of these companies also have great customer support, which makes it easier for you, and a big reason why we really enjoy working with them!