Sangoma Reseller Webinar Recap with Q&A
Today Mark Carson from Sangoma co-hosted an insightful Sangoma reseller webinar with VoIP Supply. We had lots of great interactions throughout the presentation and we'd like to share with all of you who might have missed the webinar!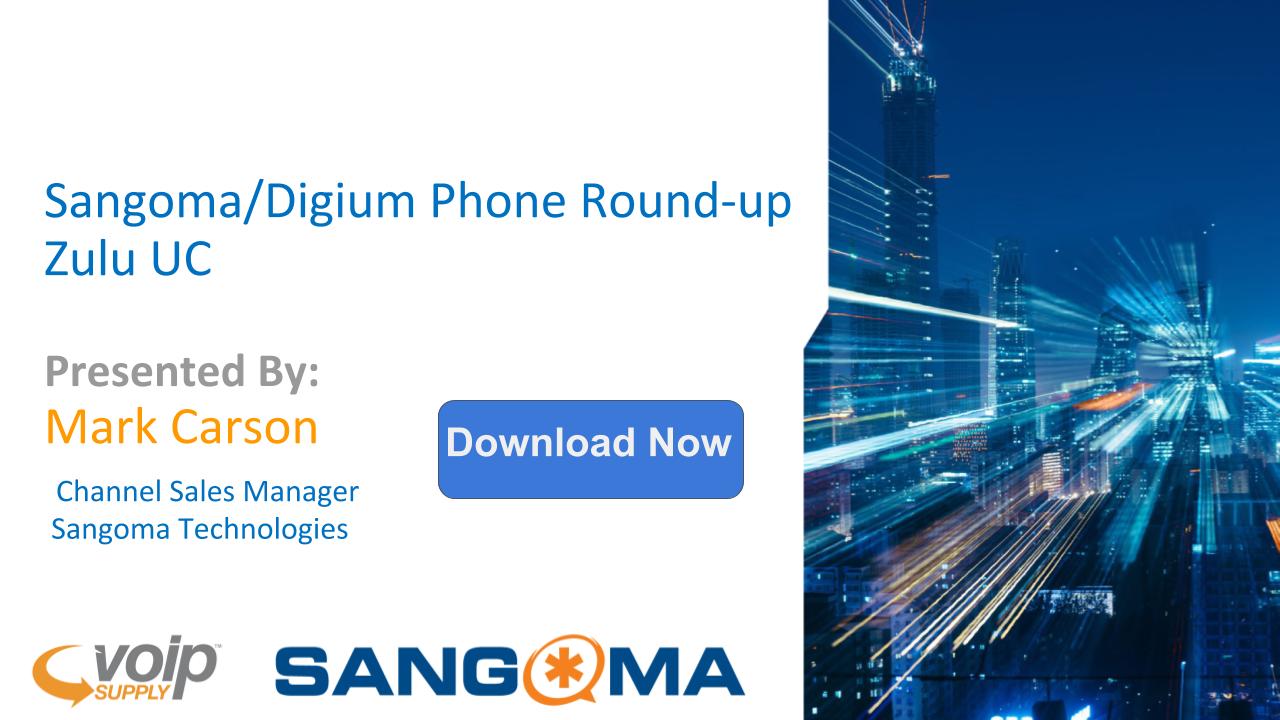 Check out the webinar slide deck below and the Q&A session:
Sangoma Reseller Webinar Q&A Session:
Question 1. Can the second line on the Digium phone mentioned be used as a BLF?
Answer: Digium phones don't allow you to do that. You will have to use a BLF unit
Question 2. How is the price of the Sangoma partnership determined?
Answer: Sangoma reseller program has three levels: Bronze, Silver, and Gold level. To become a partner of each level, you need to reach certain sales goals. The Sangoma products include Sangoma's hosted service, FAXStation, SIP Trunking, VoIP Gateways, SBCs, etc.
Bronze partners need to sell $6000 Sangoma products in a year  

Silver partners need to sell $20,000 in a year

Gold partners need to sell $120,000-$150,000 in a year  
Question 3. On a VPN connection, is all traffic routed through the PBXact ?
Answer: Yes, it would be routed through the PBXact. It is going to use your bandwidth on your Internet connection to come in. Regular SIP connection uses about 91k on a connected call; with a VPN, it's about 150. However, people are getting bigger and bigger Internet connections now so it's becoming less of an issue.
Question 4. Will the data traffic also come through via the PBXact?
Answer: The data traffic for all the other data that goes on within your local area network doesn't go through the PBXact. It's only a separate VPN connection strictly for the phones to the PBXact system, so it's not a replacement for a VPN environment for remote users on their desktop. It's not going to facilitate their traffic, it's just going to do the voice traffic over the VPN and through the PBXact.
Have more questions about Sangoma reseller program or products? Visit our website or simply raise your phone to call our VoIP experts at 1-800-398-8647!