The Polycom RealPresence Trio 8800: How to Format Numbers
These days it seems that conference phones are becoming more and more flashy. Some of the newer conference phones that I've seen remind me of spaceships, or at least something that you would expect to see on the Star Trek Enterprise.
Even with all the bells and whistles these new conference phones have, it can be easy to sometimes overlook the basic things that a phone can do.
Let's take the Polycom RealPresence Trio 8800 for example: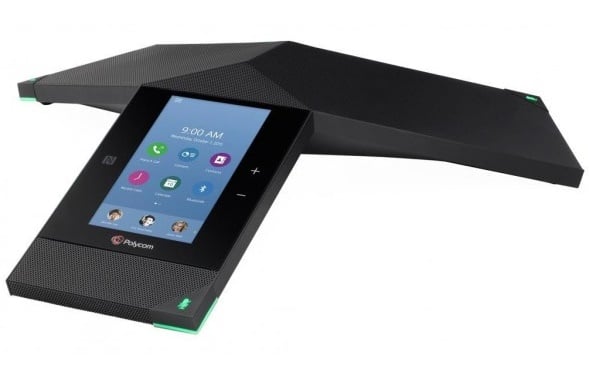 This conference phone is really awesome, and with a price point of just under $1,200 – it should be. This thing has everything from video calls, recording audio calls and content sharing to being able to connect to Bluetooth devices like laptops and tablets. All of these features, to go along with its futuristic drone-like look.
But what if I told you this phone still has some basic features? Some basic and small things that can add up to make your life easier. Because, after all, isn't it the little things that count? And who wouldn't appreciate a little extra ease to go alongside your first cup of coffee before your company meeting on Monday morning? I know I'd take anything I can get!
So, in an efforts to help out those in charge of leading their team to success, let's talk about the RealPresence Trio's ability to format numbers.
By default, the phone will list the numbers that you enter for a phone call on its screen. So, if you were calling VoIP Supply, the numbers would appear something like this:
18003988647
This can get confusing, especially when dialing a number you are not used to. Did I enter it right? Did I hit the 8 before the 6? But what if the numbers could be formatted to look like, you know, a phone number?
Simply go to Settings followed by Preferences then go to Number Formatting. From there, switch this setting to Enable.
Once this is completed, go ahead and call VoIP Supply from the homescreen. It should now look like this
+1(800)398-8647
Ahh, that's better, right? Now that looks like a phone number. It is also very easy on the eyes and you can be sure you have entered it correctly into the RealPresence 8800 before hitting that call button, on a Monday morning, in front of all of your coworkers….
Have you used a Polycom RealPresense Trio 8800? How do you like it? What are some of your favorite features? We'd love to know!