VoIP Reseller Advantages: 4 VoIP Supply Programs You Need to Know About!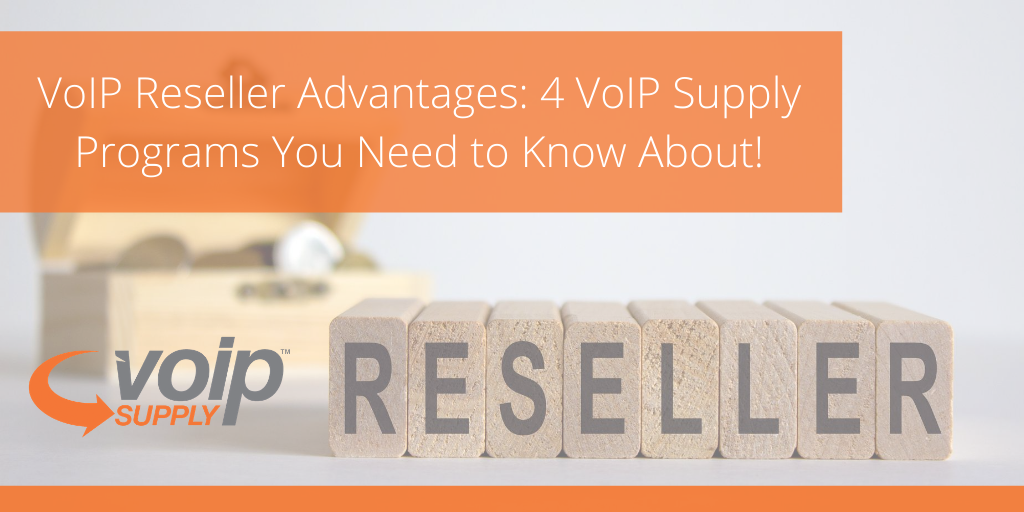 Are you interested in expanding your business? The VoIP Supply team has the most comprehensive partner program for VoIP resellers! During our reseller webinar this month, Don gave us an overview of our four popular programs. Each program has its unique value and advantages. Let's check them out one by one!
Download our Presentation Slides here to Learn More!
Take advantage of our fulfillment services and the expertise we have in-house! Let our experts do the dirty work for you so you can focus on the sales and marketing aspect of your business rather than trying to get pallets and boxes shipped in and out of the offices. Check out some highlights:
Secure user portal to order and manage your business from start to finish.
Manage your business with real-time automation of local receiving, outbound shipping, product provisioning and customer RMA's.
Real-time visibility into privately stocked inventory, as well as real-time connections to all of your order information 24/7/365.
Integrated support to assist your business in managing, and tracking RMA's or support issues.
2. Provisioning and Other Professional Services
VoIP Supply makes your rollout of IP Phones so easy! The phones will come with each box pre-labeled with the extension and user's name – all you have to do is plug it in at the desk and turn it on. Easy enough?
Need more complex tasks? Our team can also program your IP PBX to work with your trunking provider and other more sophisticated tasks such as:
Product provisioning, and testing for:
Phones, PBX's, Routers, Gateways, Analog Telephone Adaptors (ATA's), and Integrated Access Devices (IAD's)
Product assembly
Customer labeling, and branding
Inserting marketing collateral into hardware boxes, or shipping package
Re-packaging, re-casing, and re-palletizing as needed by your customer
Multiple staging options for custom deployment options
See Device Provisioning Services & Pricing Breakdown Here in the Presentation Slides
VoIP Supply's Device as a Service (DaaS) rental program gives your customers the widest variety of VoIP Products for a low monthly payment. The application process is very simple and quick! See what you can expect here:
Fast & easy to apply – One-page application
Approved within days
Wide variety of VoIP products (phones, conference phones, PBX, and more)
4. Refresh and Reclaim Programs
VoIP Supply's Refresh line allows you to replace a customer's device with a certified refurbished device at a fraction of the cost of a new VoIP device. Our Refresh products also come with a one year warranty!
VoIP Supply's Reclaim program is your outlet for selling off your used and excess VoIP equipment. You can submit your equipment for sale to VOIP Supply and receive fair market value for it.
Interested in learning more about a specific program? Contact our VoIP experts at 1-800-398-8647 today!