Popular WiFi Phones for Wireless Office Systems
Note: This blog post has been updated on October 24th, 2018. The original content was written by NATHAN MILOSZEWSKI. This is the 2nd installment in the Wireless VoIP Office Systems series.  Click here for Part I.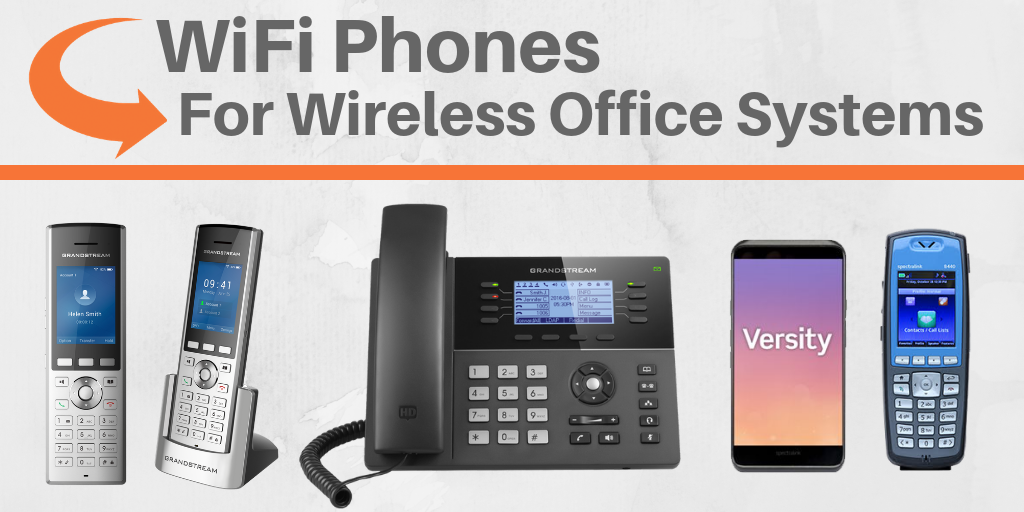 When you're designing a wireless VoIP office system there are two types of wireless VoIP phones to consider, as outlined in the previous post;  DECT and Wi-Fi.
Since we have DECT installation details already covered in a guest post series by Polycom, I'd like to specifically highlight Wi-Fi phones.
Fans of DECT systems like that the phones run on their own frequency and are more resistant to interference from other wireless devices.  If you're happy with your WLAN the way it is and would like to get more use out of it, have no interest in adding new infrastructure specifically for DECT, and just need a quick wireless solution than Wi-Fi VoIP phones might be for you.
Here now is a look at the phones with a built-in Wi-Fi transceiver unit that will connect to your access point or base station allowing either the freedom for you to move freely around your home or office while on a call or, allow you to install phones in areas where you can't or don't want to run Ethernet cable.
Spectralink WiFi Phones
Spectralink 8440
There are a number of Polycom Spectralink Wi-Fi models to choose from. Spectralink 8440 WiFi phone is one of the most popular choices which features a WebKit browser and XML API, and Push-To-Talk (PTT) functionality.   
Spectralink Versity Series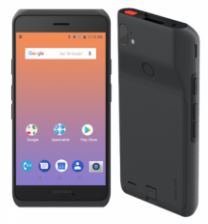 Versity Series is the latest WiFi phone series from Spectralink that you can't miss! It comes with dedicated built-in functions to meet different industry needs such as barcode scanner, hot-swappable batteries for zero downtime, even when the phone is in use, waterproof, etc. Versity is only 12.2mm thick and it supports Bluetooth 5.0 and 64 GB storage, giving you a real smartphonefeel!
Grandstream WiFi Phones
Grandstream WP820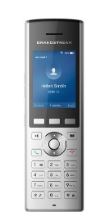 Grandstream just newly released their first ever WiFi phone, the WP820. This WiFi phone is what enterprise organizations and vertical markets such as retail, medical, and security businesses have been waiting for in a portable WiFi device. The WP820 comes with dual-band WiFi, advanced roaming support, and it supports 2 SIP accounts, 2 lines. See how this WiFi phone works and looks in our review video:
Grandstream GXP1760W Midrange IP phone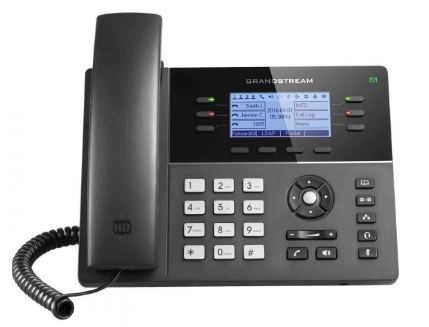 The GXP1760W WiFi phone supports 6 lines and 3 SIP accounts. This device features integrated dual-band WiFi to set you free from your desk. It's equipped with 24 programmable keys that allow you to program your phone however you like to meet your specific needs. If your business is growing and needs to handle a moderate number of calls on a daily basis, the GXP1760W can be your perfect match!
Cisco SPA525G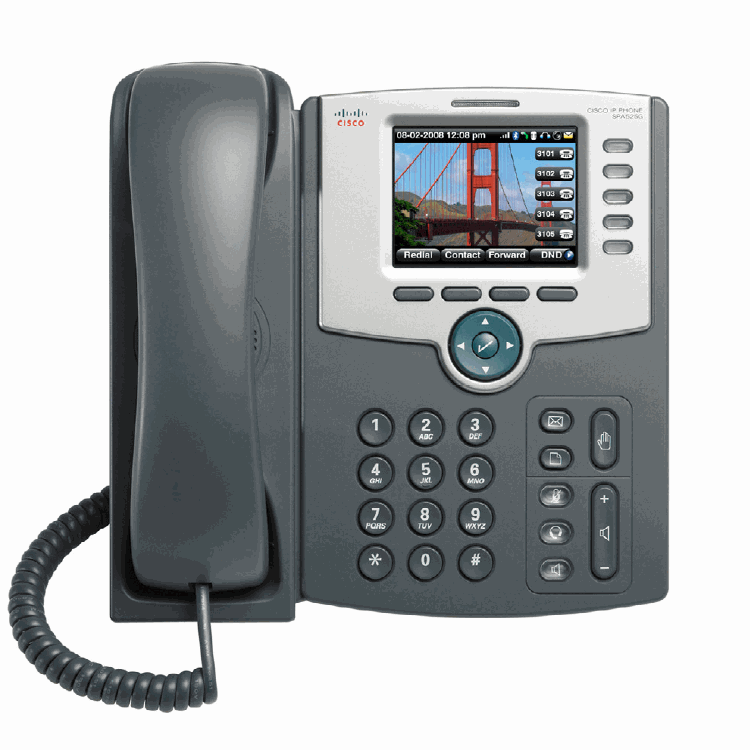 The Cisco SPA525G looks like any other ordinary Cisco desktop VoIP phone.  Its appearance belies its surprising feature of how it connects to your network.
The SPA525G has dual onboard ethernet ports with Power Over Ethernet (PoE) support including a built-in 802.11G WiFi client supporting multiple AP profiles, WiFi Protected Setup, WEP and WPA authentication/encryption. Wired or Wireless Ethernet connectivity make the SPA525G a lot more versatile, making this feature popular with users. In our testing, the SPA525G quickly scanned for available WiFi networks  and was a snap to configure.
The Cisco SPA525G2 stays ahead of the curve with enhanced Bluetooth integration with mobile phones (including Bluetooth headset support) and a high-resolution color video screen that can monitor IP cameras, multimedia functions, wideband audio for superb voice and speaker quality. This Cisco Wi-Fi VoIP phone also supports up to two Cisco SPA500S Expansion Modules (32 button attendant consoles).
Why Wi-Fi?
If you're still unsure if Wi-Fi VoIP phones are for you, remember that this option is great if you're simply looking to leverage your existing Wi-Fi infrastructures.  And if you choose Wi-Fi handsets over desktop models, the wireless handsets will also help you eliminate paging delays, improve operations and enable faster responses to problems and emergencies.
Either way, desktop or cordless handsets, Wi-Fi VoIP phones will give you greater flexibility in where you want to place your office and therefore your phone, without the added costs or hassles of having to run additional Ethernet cabling.
These are just some of the popular WiFi phone options we found good feedback from our customers. Visit our website to check out more cordless VoIP phones here!