Yamaha CS-700 Video Conferencing Solves Huddle Room Team Collaboration Challenges!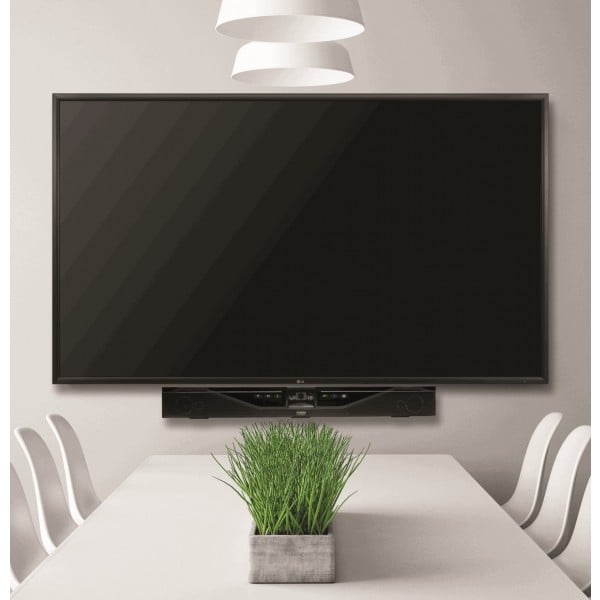 To save more space in the office, more and more small-to-medium businesses take advantage of small meeting rooms, also called huddle rooms, for team collaboration. However, with limited space and resources in the small room, it can be quite a challenge to host efficient meetings.
Well, not if you team up with Yamaha's latest video conferencing solution: The Yamaha CS-700! The CS-700 is specifically designed to solve all the challenges you may have in a huddle room. Let's see how it tackles the top 3 common huddle room challenges!

Challenge #1 Narrow Room for Video Coverage
Solution: 120-degree ultra-wide angle camera
See the whole room with Yamaha's CS-700 industry-leading 120-degree ultra-wide angle camera! It captures all meeting participants in one field of view, even when you all sit close in the room.
The CS-700 also features a beamforming microphone array that picks up every word spoken in the room and delivers it to the far end. A four-element speaker bar provides outstanding audio, ensuring that every word spoken is heard by every participant in the room.  
Challenge #2: Limited Tabletop Space
Solution: The Only Conferencing Unit & Wall Mount System
The CS-700 is the only communication device you'll need in the room. It provides a SIP interface to the call manager, replacing the need for a separate conference phone in the huddle room. This conference solution supports business communication applications such as Microsoft® Skype for Business™, Google Chromebox for Meetings™, BlueJeans®, Zoom®, GoToConference™, Vidyo® and more.
Additionally, the CS-700 is a wall mount system that eliminates any need for table-top equipment in the huddle room. The special pivot design wall mount provides simple installation and allows you to connect the wires to the CS-700 within seconds!
Multiple Convenient Connectivity
The USB and SIP communications easily expand your communication opportunities to a further end. The Bluetooth connectivity enables fast and easy audio connections, instantly turning a mobile or PCs into a conference device!
Challenge #3: Multiple Huddle Rooms to Manage
Solution: Remote Management & Bulk Configuration
Managing 1000+ of huddle rooms is no long a challenge for your IT department with the Yamaha CS-700. This conferencing solution enables remote monitoring and management of the units as well as configuring units in bulk. You are able to upgrade remotely and automatically through the IP interface.
That's not all……..see more unique features:
Ultra-wide angle camera with 120-degree field of view

Beamforming microphone array

4 speaker element sound bar

Supports business communication applications

Supports USB, Bluetooth, and SIP

Easy cable access wall mount

Remote Manageability

DisplayLink collaboration
Do you use huddle rooms for your team meeting? What are the challenges you have encountered? Share with us!
The CS-700 conferencing solution is now available at voipsupply.com! If you have questions about the product, simply give one of our VoIP experts a call at 1-800-398-8647!