Yealink T46G: How to Transfer to Voicemail
When you know someone is unavailable, you don't want to transfer your customer to a ringing line and make them wait to leave a voicemail.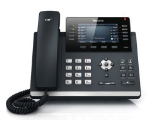 With the Yealink T46G, you don't have to! When transferring a call, you would typically hit the Transfer button on the front of the phone, dial the extension and then hit the Transfer button again. Doing this will connect the number to the extension you have dialed.
In the case where you know no one will be on the other end, you can let your customer know that they will be put straight through to voicemail by adding this one simple step.
After hitting the Transfer button, press the (*) button before entering the extension. After doing this, hit the Transfer button once more, and the line will be connected to that extension's voicemail.
Example: Transfer > *123 > Transfer