Digium Rack Mount Breakout Box 1ACC24PPP
The Digium Rack Mount Breakout box 1AXX24PPP is a 19in1U, rack mountable patch panel featuring a 50-pin male connector and its 24 female RJ-11 connectors are wired with two conductors for single line operation. The 24-port patch panel is used in combination with the 6 ft 50-pin telephone cable (3113-00002) to interface the TDM2400P card with regular RJ-11 two-conductor telephone cables.
We're sorry, there are no downloads available at this time.
Manufacturer

Digium

Model

1ACC24PPP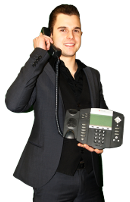 Brian Hyrek
Direct: 866-583-0815
Blog
For advice, reviews and industry insight... be sure to follow us online.