Grandstream GXP2120 6-Line VoIP Phone
The Grandstream GXP2120 is a 6 line SIP Phone which features HD Voice hardware and software support and a large 320 x 160 backlit graphical LCD. The GXP2120 can handle 6 SIP accounts represented by 6 dual-color line keys and 4 XML programmable context-sensitive soft keys. In addition, the GXP2120 has 7 dual-color BLF extension keys for the most common calls and transfers making it an ideal phone for an office user with moderate to heavy interoffice calling needs.
Grandstream GXP2120 6-Line VoIP Phone Overview
The GXP2120 Executive HD
VoIP phone
features 6 lines, a generous 320x160 backlit graphical LCD, 4 XML programmable context-sensitive soft keys, 7 XML programmable BLF extension keys, dual network ports with integrated PoE, and 5-way conference. Delivering superior HD audio quality, rich telephony features, personalized information and customizable application service, the GXP2120 is the perfect choice for enterprise users looking for a high quality, feature rich multi-line executive IP phone with advanced functionalities and performance.
The GXP2120 also supports automated provisioning for easy deployment, advanced security protection for privacy, and broad interoperability with most 3rd party SIP devices and leading SIP/NGN/IMS platforms.
Grandstream GXP2120 Features & Functions:
6 dual-color line keys with support for up to 6 SIP accounts
4 XML programmable context-sensitive soft keys
Up to 5-way conference
Up to 13 call appearances with 7 dual-color BLF extension keys
HD wideband audio handset and G.722 codec support
Superb full-duplex hands-free speakerphone with advanced acoustic echo cancellation and excellent double-talk performance
Integrated real-time web applications (weather, stock, currency, RSS news, etc.)
Large phonebook (up to 2,000 contacts) and call history (up to 2,000 records)
Optional add-on line expansion modules with an extra 112 extension keys for receptionist and heavy call center requirements
Didn't find the VoIP phone you were looking for?
Check out these other Grandstream Phones.
We're sorry, there are no downloads available at this time.
Manufacturer

Grandstream

Model

GXP2120

# of Lines

6

High Definition

No

Backlit Display

Yes

Color Display

No

Touchscreen Display

No

Protocols Supported

SIP

# of Ethernet Ports

2

Gigabit

No

Power

PoE (IEEE 802.3af), Power Supply Included

Headset Interface

2.5mm, RJ9

EHS Support

No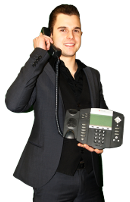 Brian Hyrek
Direct: 866-583-0815
Blog
Why Pay
$139.00

for the Grandstream GXP2120?
Generous 320x160 pixel backlit graphical LCD display with up to 8 level grayscale

6 lines indicators with individual SIP account profiles

HD wideband audio, superb full-duplex hands-free speakerphone
For advice, reviews and industry insight... be sure to follow us online.
Customer Reviews
Chris

Great for reception desks
We plan on putting these with some phone banks on our reception desk. So far all of our tests (including pairing it with the GXP2020EXT) have been VERY successful. We've even added custom corporate graphics to the screen and managed everything about the phone from our PBX. All we do is scan the MAC address from the box into our PBX and tell it what model of phone it is and what extension we want it to be and the rest happens automagically on first bootup.

We will likely be buying more of these, or possibly the GXP2124, for all of our receptionists.

Definitely sold on Grandstream for ease of setup and overall feel of the hardware.

(Submitted on ) | by
Alternatives To This Product
Your Price:

$181.00




Add To Cart For A Better Price!