Grandstream HT502 VoIP Adapter
The Grandstream HT502 is a hybrid Analog Telephone Adapter (ATA) and VoIP Router in one. It features 2 FXS Analog phone ports so it can accommodate up to 2 SIP Account profiles, as well as a 10/100 WAN and LAN port which enables a shared broadband connection between multiple ethernet devices.
Grandstream HT502 VoIP Adapter Overview
The Grandstream HT502 is based on the SIP 2.0 standard and features 2 FXS ports, dual 10M/100Mbps Ethernet ports with integrated high performance NAT router, port status and message waiting LED, and a base stand for vertical positioning. This versatile Grandstream HandyTone model supports UPnP, SIP over TCP/TLS, up to 2 SIP account profiles, caller ID, call waiting, 3-way conference, blind or attended transfer, call forward, do not disturb, voicemail, T.38 fax, flexible dial plan, direct IP calling, multi-language voice prompts, secure and automated provisioning using HTTP/HTTPS/Telnet/TFTP, symmetric and asymmetric voice codec/RTP in any call sessions, and various popular voice codecs including G.711(a/u-law), G.723.1, G.729A/B, G.729E, G.728, G.726-40/32/24/16 and iLBC.
Grandstream HT502 Features and Functions
Supports UPnP, SIP over TCP/TLS
Up to 2 SIP Account Profiles
Caller ID
Call Waiting
3-Way Conference
Blind or Attended Transfer
Call Forward
Do Not Disturb
Voicemail
T.38 Fax
Flexible Dial Plan
Direct IP Calling
Multi-Language Voice Prompts
Secure and Automated Provisioning using HTTP/HTTPS/Telnet/TFTP
All-in-1 VoIP IAD
Built-in Router, NAT and Gateway
2 FXS Port
10/100Mbps Ethernet
Compact, Lightweight and Highly Affordable
Didn't find the VoIP Adapter you were looking for?
Check out these other Grandstream VoIP adapters:
We're sorry, there are no downloads available at this time.
Manufacturer

Grandstream

Model

Handytone 502

# of FXS Ports

2

# of FXO Ports

0

# of Ethernet Ports

2

Built-In Router

Yes

Wireless

No

DHCP Capabilities

Yes

Fax Support

T.38

Protocols Supported

SIP

Provisioning Options

Auto Provisioning, HTTP, TFTP, Voice IVR, Web GUI

Voice Signaling Methods

No

Power

Power Supply Included

FXO Gateway Support

No

Lifeline Support

No

MWI Support

Yes

PSTN Pass-thru

No

Voice Codec Support

G.711 a/u law, G.729 a/b, G.723, G.726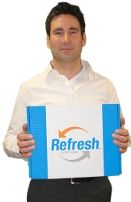 Michael Rehac
Direct: 716-213-6898
Blog
Why Pay
$33.99

for the Grandstream HT502 ?
2 FXS Ports

Dual10/100 Mpbs ports (RJ45) w/integrated router

Universal Plug and Play (UPnP)
For advice, reviews and industry insight... be sure to follow us online.
Questions on Grandstream HT502
Q: Am I able to use with with skype if so what is the server address
A: The Grandstream HT502 does not work with Skype.
Q: I am looking for a device that I can call New Zealand and be called from New Zealand - free. Can this device address this?
A: You would need a service provider for each device to give you voice services, so I'm not sure about the free part, but having one of these at each location would do what you need.
Q: i have tone but when i dial all hear is busy signal
A: please submit a ticket with our technical support department and we will be happy to assist you.
Q: Hi,
I have a Voip provider, Can i configure this box with my voip providers settings in order to connect it to a fax machine and send and receive fax? also can i connect it to a analog phone?
also, how many analog phones can i connect to it?

Thank you!
A: You would have to check with your provider for specific compatibility, but yes, it should work. The are 2 ports on the 502, so you can have 1 fax and one phone, or 2 phones.
Customer Reviews
BigHonkingDisk

Works great but no busy failover
Great value, working great so far. I had a cisco spa112 alongside that constantly lost its ring tone and had to be rebooted but this grandstream worked much better. 2 annoyances: backup/restore config in web gui would be nice. And busy failover would be nice as well.

(Submitted on ) | by

Rich

Great Product Super Reliable
This product just works. Place it directly after you cable modem BEFORE your router and you will have an awesome experience. An excellent product.

(Submitted on ) | by

Malvis

Durability and Support below hopes
We have used and gone through 3 of these ATA adapters over the last ~3 years, at two separate locations.

Once configured correctly for the VoIP provider supplying service (not necessarily straight forward, with most VoIP providers), each unit has worked well.

However, the units seem to start malfunctioning within a couple of years and Grandstream company responses to support requests via their website support ticket system is typically very slow (3-8 days) and, while polite, often rather lame in terms of providing much real help. My limited experience with the Grandstream forum is one of no responses despite carefully written questions with specifics from the adapter web page interface.

(Submitted on ) | by

MAlvis

Good but problems with reliability and support
We have used and gone through 3 of these ATA adapters over the last ~3 years, at two seperate locations.

Once configured correctly for the VoIP provider supplying service (not necessarily straight forwared, with most VoIP providers), each unit has worked well.

However, the units seem to start malfunctioning within a couple of years and Grandsteam company responses to support via their website support ticket system is typically very slow (3-8 days) and, while polite, often rather lame in terms of providing much real help. My limited experience with the Grandstream forum is one of no responses despite carefully written questions.

(Submitted on ) | by

Ronnie

HT502
I have been using the HT502 for 2 months now, Works great and sounds great.

(Submitted on ) | by

True Call International

HT 502
The HT-502 is one of the best devices out there in regards to quality. Grandstream has a very effective provisioning system that can run on a Linux server that creates an encrypted file that can be placed on a tftp, ftp or http(s) server.



(Submitted on ) | by

Reliant Global

Good Price, Great Performance, Tiny Package, Flawless Voice Quality
We have several of these Devices in place between our several offices, never had a issue with call quality or anything else with any of these devices.

They pack a lot of flexibility and punch for such a small form factor lower priced device.

Compared to a Linksys PAP2T-NA which locks up randomly (regardless of firmware) and has other intermittent registration issues. As well as when it randomly decides to lose some of its configuration out of the blue. Will never buy another Linksys PAP2T.

(Submitted on ) | by

Raija

Did not like VoIP in the beginning
It took 2 days to find out how to connect my 2 VoIP phones. Did not really understand why it did not work and then why it started to work. Now all is well.

(Submitted on ) | by

Dean Franks

Good replacement for old 486/586 etc
All connectors on rear, 12v power, runs cooler. More setup options but the same basic interface. Recommended.
Would be nice if it has eye holes on the back for board mounting...

(Submitted on ) | by
Alternatives To This Product