Wireless IP Cameras
Wireless IP Cameras for All Users
Wireless IP Cameras from VoIP Supply offer a flexible, quick and cost-efficient way to deploy IP cameras particularly over a large area such as a parking lot, college campus, or a city center where pulling cables through the ground is undesirable or Ethernet cables are beyond reach.
In older, protected buildings subject to historic preservations, wireless technology may be the only alternative if standard Ethernet cables may not be installed. And with their ease of setup, Wireless IP Cameras from VoIP Supply are ideal for monitoring special events or any security need on short notice.
All of the Wireless IP Cameras you will find below are feature-rich and offer un-compromised functionality, flexibility, cost savings as well as advanced features that will substantially improve your surveillance system. And every Wireless IP Camera we supply is fully warranted and supported by our team of in-house experts.
Need assistance selecting the right Wireless IP Camera? Give one of our experts a call at 866.885.4853.
Buying Advice
Customer Benefits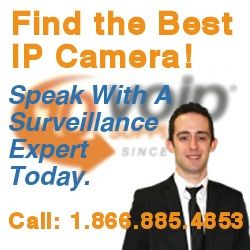 An indoor, day and night, wireless, Megapixel IP camera with 2-way audio

A black indoor, day and night, wireless IP camera with pan/tilt capability and 2-way audio

The Axis M1011-W is a wireless micro sized fixed IP Camera featuring H.264, MPEG4 part 2, and MJPEG video compression at up to 30 fps. The M1011-W will operate while wired to the LAN or wirelessly through integrated invisible antenna.

The Vivotek IP8133W is an easy-to-use WiFi network camera specifically designed for home security applications with a compact, stylish exterior. With a camera with a 1MP sensor enabling viewing resolution of 1280x800 at 30 fps, users need to look no further for an all-in-one camera capable of capturing high quality, high resolution video.

A wireless Internet Camera with 2 way audio and 640x480 resolution. Easily create your own surveillance system with this wireless camera at an attractive price!

A wireless N Internet Camera with 640x480 resolution and audio at an attractive price!

The Vivotek PT8133W wireless pan/tilt PoE IP Camera is a 1MP IP camera with 1280x800 resolution with dual streaming capability.

The Grandstream GXV3615-W is a powerful next generation network camera featuring WiFi Capability and a high quality CMOS sensor and lens to ensure razor sharp picture quality and excellent performance in low light conditions.

VIVOTEK's PZ7131, equipped with a pan-focus 2.6x optical zoom lens, is a cost-effective pan/tilt/zoom network camera for indoor surveillance applications such as retail stores.
An indoor wireless day and night Internet Camera with 640x480 resolution. IR illuminators allows it to see distances up to 16 feet in the dark, making this IR Camera perfect for home security at a competitive price!