PCI Cards for Telephony Platforms
Buy the RIGHT PCI Card for your telephony system at VoIP Supply.
Choose from over 1,000 different PCI Cards in a variety of configurations. Whether you are looking to connect your legacy telephones and fax machines to your Open Source Phone System or need to connect your Open Source Phone System to the PSTN, VoIP Supply has the solution you are looking for.
All of our PCI Cards carry a standard manufacturers warranty, are supported by our in-house team of VoIP experts and are compliant with most standard protocols and codecs.
Shop by Brand
Customer Benefits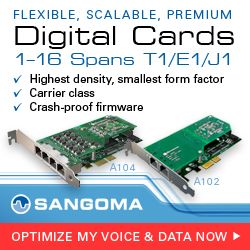 The Sangoma A101D is a single port T1/E1/J1 PCI card with onboard Hardware Echo Cancellation that has been designed for optimum voice support for smaller systems

The Sangoma B601D is a hybrid PCI Telephony card with 1 T1/E1, 4 FXO, and 1 FXS port and onboard echo cancellation.

The Sangoma B600D is a 4 Port FXO and 1 Port FXS PCI card with onborad Hardware Echo Cancellation. The B600D has been built with Sangoma's premium audio and engineering quality but has been specifically designed for smaller-budget installations.
The Digium 1TE407PF is a quad span digital T1/E1/J1/PRI PCI 5.0V card with onboard echo cancellation.

The A4 Series Digium 1A4A03F 4 Port 0-FXS/4-FXO PCI Card with EC for 3.3/5.0V