Cisco CP-7941G (REFRESH)
This Refreshed Product has undergone an extensive 10 Step Process in which it was inspected, tested, fully cleaned, upgraded to the latest firmware and repacked for sale.
Refresh products ship with all the applicable original components including phone, handset cord, base stand, RJ45 cable and manuals.
Refreshed Cisco CP-7941G VoIP Phone
The Cisco CP-7941G Unified IP Phone is 2 line IP Phone with a large high resolution LCD display and dual switched Ethernet ports with PoE. It is dynamic, and it is designed to grow with system capabilities. The CP-7941G Unified IP Phone is a full-featured enhanced business IP phone that addresses the communication needs of the transaction worker.
Refreshed Cisco CP-7941G VoIP Phone Product Overview
The Cisco IP Phone 7941G supports Power over Ethernet (PoE) which eases installation and reduces clutter in the workspace. The foot stand is adjustable from flat to 60 degrees to provide optimum display viewing and comfortable use of all buttons and keys. The foot stand is also keyed to match standard wall jack configurations for wall mounting. The Cisco IP Phone 7941G is multi-protocol enabled, supporting Cisco's Call Manager Skinny Client Control Protocol (SCCP) and SIP for Cisco Call Manager.
As the market leader in true IP Telephony, Cisco continues to deliver unsurpassed end-to-end data and VoIP solutions, offering the most complete, stylish, fully featured IP Phone portfolio to enterprise and small-to-medium sized customers.
The Cisco CP-7941G Unified IP Phone is dynamic, and it is designed to grow with system capabilities. Features will keep pace with new changes through software updates to the phone flash memory. Firmware changes can be downloaded from Cisco Unified CallManager and Cisco.com. No hands-on moves and changes are required with the phone-the user can simply pick up the phone and move to the new location anywhere on your network. The Cisco Unified IP Phone CP-7941G provides many accessibility methods according to user preference.
Refreshed Cisco CP-7941G Features and Functions
2 Lines
2 Ethernet Ports
Power over Ethernet
Supported Protocols: SCCP, SIP for Cisco Call Manager
Messages:
The phone offers direct access to voicemail.
Directories:
The phone identifies incoming messages and categorizes them for users on the screen. This feature allows users to quickly and effectively return calls using direct dial-back capability.
The corporate directory integrates with the Lightweight Directory Access Protocol Version 3 (LDAP3) standard directory
Settings:
The Settings feature key allows the user to adjust display contrast, select background images (if available), and select from a large number of unique ringer sounds through the User Preference menu.
Network Configuration preferences also can be set up (usually by the system administrator). Configuration can be either automatically or manually set up for Dynamic Host Control Protocol (DHCP), Trivial File Transfer Protocol (TFTP), Cisco Unified CallManager, and backup Cisco Unified CallManager instances. Other available Settings submenus include Device Configuration and Security Configuration
Services:
The Cisco Unified IP Phone 7941G allows users to quickly access diverse information such as weather, stocks, quote of the day, or any Web-based information using XML to provide a portal to an ever-growing world of applications, features, and information.
What's Included
---
PLUS6 Warranty
Refreshed Products come with a standard 6 month warranty with an additional 6 months of coverage available through the PLUS6 WARRANTY.
All Refresh Products purchases are non-refundable. Replacement or store credit will be given if product is deemed defective inside of 6 months.
---
Why Buy Refresh?
✚ Value - Refresh products represent an exceptional value as they can be purchased for 20 to 25 percent less than their new equivalent retail price. ✚ Reliability- You can be assured that each product has been fully tested and ready to perform just like it was when originally purchased. ✚ Performance - All Refresh products go through an extensive reconditioning process which includes feature/functionality testing, component replacement (if necessary) and software upgrades. ✚ Warranty - Every Refresh product comes with a standard six month warranty that covers mechanical failures and defects. In addition VoIP Supply also offers an additional six months of protection through the Plus 6 warranty.
We're sorry, there are no downloads available at this time.
Manufacturer

Refresh

Model

Cisco CP-7941G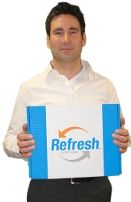 Michael Rehac
Direct: 716-213-6898
Blog
Why Pay
$84.99

for the Cisco CP-7941G (REFRESH)?
2 Line IP phone

Dual switched PoE Ethernet ports

Large Hi res LCD display
For advice, reviews and industry insight... be sure to follow us online.