About Konftel
Konftel was established in 1988 and is Europe's leading manufacturer or conference phones.
Konftel began when a bank manager asked Peter Renkel, an electrical consultant, if there was a way to get create a conference solution that would allow 2 way communication simultaneously (as opposed to only being able to hear one person at a time).
Peter Renkel and friend John-Erik Eriksson worked together to build the first telephone conference call system that allowed more than one party to speak and be heard at the same time. Hence Konftel had begun.
Why buy Konftel?
Konftel's founders developed the sound technology that all other conference phones rely on today.
Konftel conference phones use OmniSound or Omnisound 2.0 which enables crystal clear sound even while the speaker is moving around in the room and eliminates background noise.
Konftel is the leading European manufacturer of conference phones.
Konftel offers a 2 year guarantee on their products.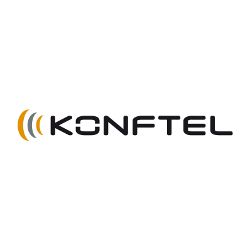 The Konftel 900102096 is a battery charger for the Konftel 300W DECT spare battery.

The Konftel 900102095 is a replacement battery for the Konftel 300W DECT conference phone.

The Konftel 840102099 DECT base station allows charging of the Konftel 300W wireless conference phone so you can pick it up and take it anywhere.