4 Reasons Why You Should Let VoIP Supply Help Your Provisioning Needs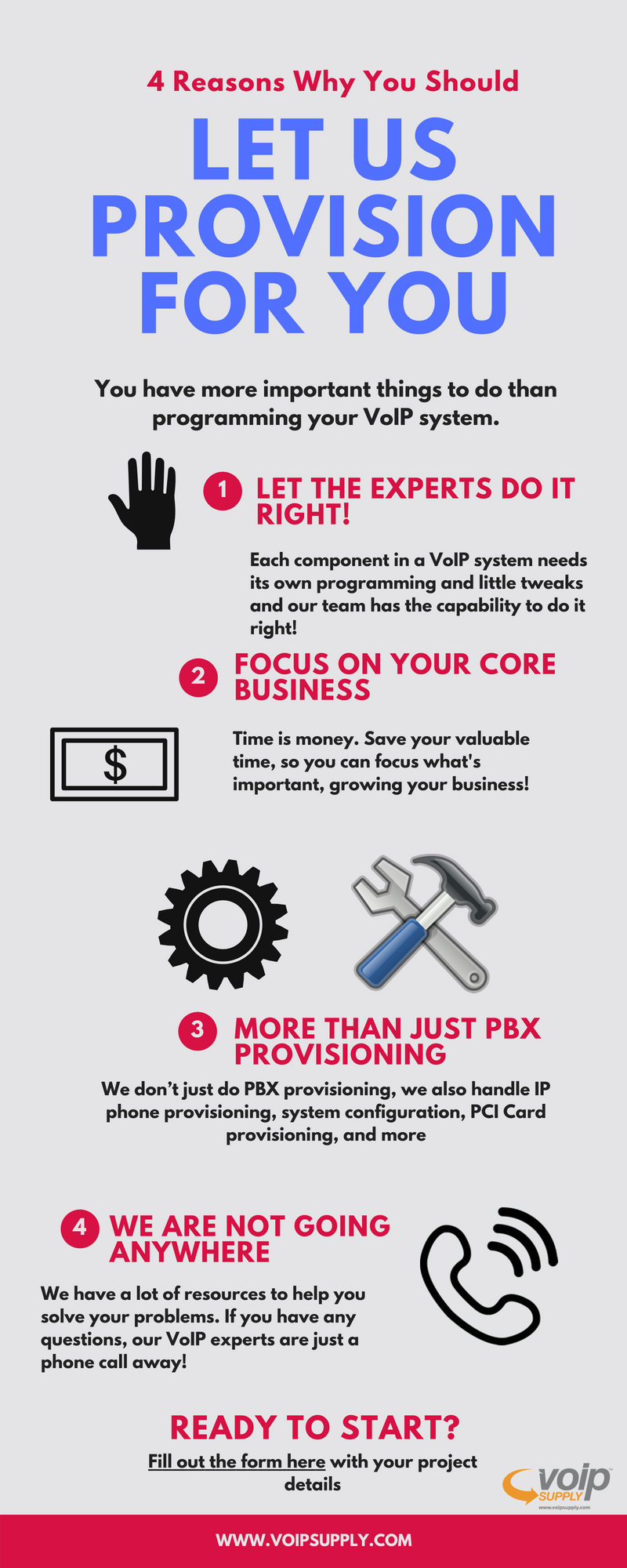 We all have a lot to do each day and programming your customers' VoIP systems shouldn't be your focus. Luckily, there's a better solution: the provisioning service by VoIP Supply!
Check out the top four reasons why our customers choose to do programming and provisioning with the VoIP Supply provisioning team:
Why Provisioning VoIP Systems with VoIP Supply?
Reason 1: Let the experts do it right!
Each component in a VoIP system needs its own programming and little tweaks. The VoIP Supply provisioning team already has the knowledge and capability to do it efficiently for you. Why not let us do it right for you?
Our team configures the proper IP settings to match your network specifications, sets up your extension information, and makes sure the PBX is ready to connect to your phones. Your PBX will be ready to go right out of the box!
Reason 2: Focus on your core business
Time is money. Save your valuable time by having the experts at VoIP Supply configure for you, so you can focus what's important, growing your business!
Reason 3: More than just PBX Provisioning
We don't just do PBX provisioning, we also handle IP phone provisioning, system configuration, PCI Card provisioning, and more. From initial consultations to the final installation, you don't need to worry about a thing. Just relax and let us do it for you.
Consultations:

VoIP Supply Phone Support in 30 or 60 Minute Packages

VoIP Provisioning:

VoIP Phone Provisioning, Remote Phone Provisioning, PBX Provisioning

Configuration:

System Configuration, PCI Card Configuration, PCI Assembly

Installations:

Site Survey, Cat5 Cable Runs, UPS/Phone/PBX Installation, Router and Wireless Access Point Configuration and Installation
See the full list of services here.
Reason 4: We are not going anywhere
Our VoIP Solution experts are able to pair you with an installation partner utilizing our network of integrator from our Community. We have a lot of resources to help you solve your problems. If you have any questions, our VoIP experts are just a phone call away to answer!
Ready to Start?
Our provisioning services are performed in our VoIP Provisioning Lab from 8 am to 5 pm EST. Fill out the form here with your project details and one of our VoIP consultants will contact you as soon as possible.