Ask Mr. Andrews: What Are My Options for Paging with trixbox?
Dear Mr. Andrews:
I run a manufacturing facility and we recently implemented trixbox to replace our legacy phone system. We have a four-zone analog paging system that was integrated with our previous phone system. What are my options for paging with trixbox?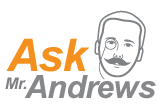 "Desktop" paging, whereby you dial a number and all the phones in the dialed call group pick up automatically, go into hands free, and play through their speaker what the caller is saying, is supported on trixbox using a number of IP phones. Snom phones, Grandstream GXP Series Phones, Aastra 480i and 9133i, and Polycom phones all support desktop paging.
A note about setting up desktop paging with Polycom phones:
You MUST provision the phone from a FTP server to
load the Polycom config files, then edit sip.cfg, search for
"alertInfo" and set "voIpProt.SIP.alertInfo.1.value" to equal "Ring
Answer." Now reboot your phone to load the new config option.
For overhead paging, you can make an Asterisk Extension go to the sound card, and wire its output to a traditional external paging system. You can also get boxes to interface a phone FXO or FXS port directly to a sound system. Examples:
Valcom V-2001A

connects to an FXO port, so more suitable for interface with PBX or other phone system

Viking CPA-7B Paging/Loud Ringing Amplifier
Radio Design Labs ST-TC1 Telephone System Coupler

Also sold as: Smarthome Product
connects to an FXO port, so more suitable for interface with PBX or other phone system
A third option for paging is to use an overhead, SIP-enabled speaker manufacturer by Cyberdata. Cyberdata offers a recess mounted, SIP enabled speaker that is PoE powered, and can be setup like a normal extension off your Trixbox system. In this scenario, you could place four speakers in your current paging zones, and assign each zone an extension. You could also group these extensions into a "page all" call group. Cyberdata also makes an amplified version of their speaker system for noisier industrial environments.