AT&T Introduces Syn248 Hybrid VoIP System for Small Businesses
AT&T and Vtech, the makers of the Synapse VoIP Phone system, have partnered to bring the benefits of a VoIP PBX to very small businesses with no IT staff.  The new Syn248 phone system by AT&T allows you to use your existing phone lines to connect to a VoIP PBX for your office.  Using the AT&T Syn248 phone system, small businesses or SOHO's can enjoy an auto-attendant, day and night menu options, and a dial by name directory in a low cost, all inclusive package.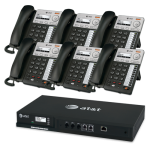 The Syn248 consists of 2 pieces of equipment: A Syn248 Gateway and the Syn248 Desk phone. Connect the Syn248 PSTN gateway to your PSTN  lines. A single Syn248 gateway can connect up to 4 PSTN lines, use 2 gateways for up to 8 lines.  The Syn248 gateway holds your auto attendant and supports day/night menu options, custom on-hold message recording, and a dial-by-name directory.  The gateway has a small form factor for desktop or rackmount storage. It also has a single FXS port so in the event of a power outage, you can still use an analog phone to connect to the PSTN.
Using an Ethernet switch, you can connect up to 24 Syn248 VoIP phones to the Syn248 system. The Syn248 handset is PoE and offers dual Ethernet ports to allow you flexibility on where you put it. With dual Ethernet ports, you can use a single cable drop at your desk for your phone and PC, helping you avoid costly cable installs.  The Syn248 desk phone includes a voicemail box with up to 30 minutes of recording time and has a Message Waiting Indicator (MWI) for a visual reminder of your voicemails.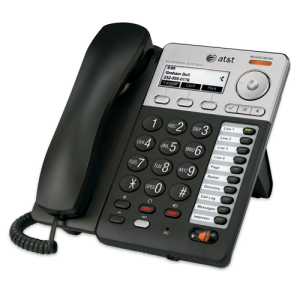 The Syn248 is a good looking VoIP Phone. It has a 2.75in backlit LCD display and large, easy to read buttons. There are 9 programmable feature keys on the right that can be programmed as quick dial buttons. It also has a hands-free full-duplex speakerphone and a dedicated RJ9 headset jack.
The Syn248 is a feature-rich and budget-friendly phone system for the small business owner looking to compete with larger businesses. The features of the Syn248 phone give your customers the same type calling experience as they would experience with larger and more expensive VoIP Systems.  Syn248's Auto-Attendant and menus are configured and administered using a Web GUI that is intuitive and easy to follow for the average computer user, making the Syn248 truly Plug-and-Talk for the small business owner. For under $1000, the average small business owner can own and administer a custom 4-phone VoIP call solution with no installation costs!